Skoda Octavia vRS - 320 km/h on Bonneville
A super tuned version of Skoda Octavia vRS has crossed the 200 mph barrier at the Bonneville Speed Week (13-20). The car achieved an impressive 195.69 mph on its first run of the day and on the sixth, it made 202.15 mph.
Driven by journalist Richard Meaden, the Octavia had demonstrated its potential on Sunday (14  August) as it powered its way to 191 mph securing all four speed licenses required before heading to the magical 200 mph barrier.
"Months of rigorous planning, testing and preparation have all been worthwhile.  At 13:24 on Monday 15th August, we took our Octavia vRS past the 200 mph barrier.  The entire team has done an outstanding job.  Our special thanks go to Richard on an incredible drive.", commented Robert Hazelwood, Director for SKODA UK.
"This marks another exciting milestone in the brand's motorsport achievements and is a great way to celebrate 10 years of the vRS range and commemorate 110 years of ŠKODA's participation in motorsport.", he added.
The engine is the same 2.0 litre turbocharged petrol TSI, but with enormous turbo from Garret. The result is 600PS at 28 PSI of boost pressure (almost 2 bars) with 120 RON high octane race control fuel with water methanol injection.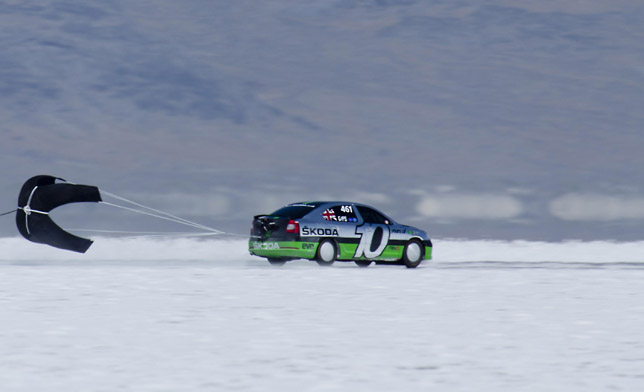 Source: Skoda