2013 Skoda Rapid: the new class of Skoda
2013 Skoda Rapid is the new compact saloon offered by Skoda which is going to be seen at dealerships in the beginning of the autumn this year.
At first sight, one gets a great impression by the new vehicle: it delivers a lot of spaciousness, has an expressive design, an excellent price, a comprehensive safety offering and efficient engines. Again this model is expected to grab the attention of many.
First of all, thanks to the exterior dimensions that the Rapid has: 4.48 m in length, 1.71 m in length, 1.46 m in height, the vehicle can comfortably accommodate up to five persons. In addition, in this amount of space inside of the car, are also included practical holder for the warning vest underneath the driver's seat, storage for the ice scraper, refuse bin in the side door.
Furthermore, the Rapid is the first Skoda to entirely include the brand's new design philosophy. It has perfect proportions, clear and cleanly modeled surfaces and sharply drawn lines. The front end shows a new take on Skoda's typical design elements.
For instance, the new brand logo confidently stands out front edge of the bonnet. In addition, the grille shows a finely drawn chrome frame and is formed by vertical slats. The headlight ensemble is grouped at the front of the Skoda Rapid to form a cloverleaf shape. Not only the front of the car looks so inviting, but also its body side conveys pure emotion. Thanks to it, being a long wheelbase, the car has a coupé-like silhouette.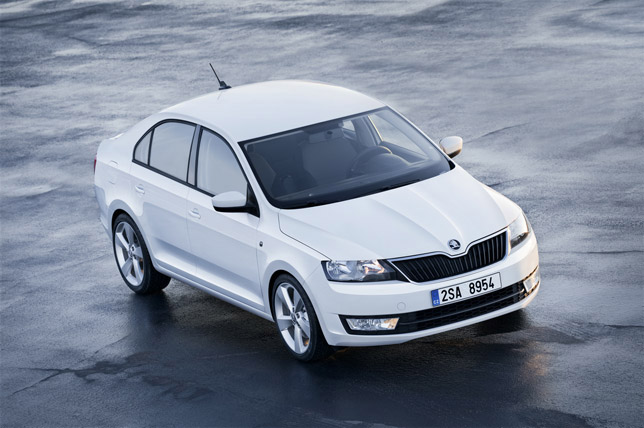 In fact, the Rapid is going to be the new class of the brand, because it takes the place exactly between the Fabia and the Octavia, making it through to the so-called A segment.
Next, the vehicle also will offer its customers wide range of active and passive safety features such as ABS and ESP systems (which are a standard option), tire pressure monitoring, fog lamps with 'corner function','hill-hold control' assistant, front, side and head airbags, adjustable-height 3-point safety belts with tighteners, headrests.
More importantly, the Rapid will be available with four petrol and two diesel engines. The petrol entry-level engine is the 1.2 l MPI three-cylinder producing 55 kW (75 hp). The other petrol engines are the 1.2 l 63 kW (86 hp) TSI, the 1.2 l 77 kW (105 hp) TSI and the 1.4 l 90 kW (122 hp) TSI.
On the other hand the 1.6 litre diesel engine comes with direct common rail injection. The basic diesel generates 66 kW (90 hp) and may be combined with the optional seven-speed DSG (double-clutch transmission). The 1.6 l TDI CR version is more powerful, putting out 77 kW (105 hp).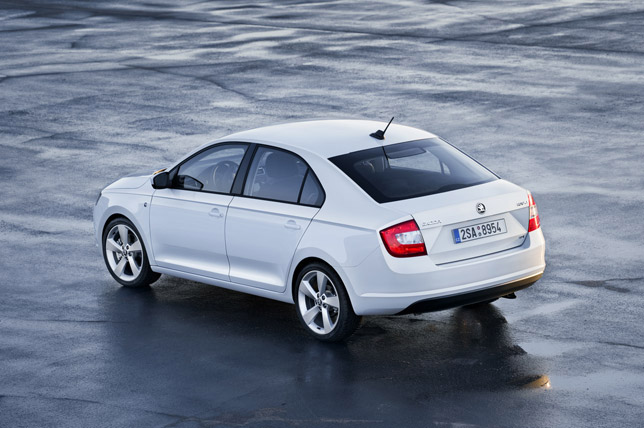 Source: Skoda