2015 Smart Family Grows to Six Versions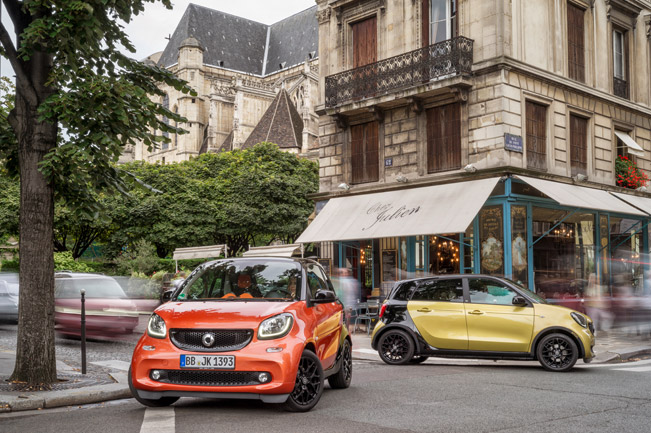 The new smart which debuted recently is set to expand to six models. The entry level variants begin with the 45 kW variants of the smart fortwo and smart forfour, while at the top of the range sits the 66 kW forfour. Although so tiny cars, they come with a comprehensive scope of safety and comfort equipment. Take a look at the LED daytime driving lights for example. The names of the three lines which serve to upgrade the smart fortwo and smart forfour are passion, prime and proxy. Their features include a leather multifunction steering wheel, an instrument cluster with 3.5-inch TFT colour display and heated seats.
Have in mind that smart has also included a lot of standard features such as central locking with radio remote control, visual locking-verification signal and immobiliser, cruise control with limiter, exterior temperature indicator with frost warning. Other added equipment is the instrument cluster with monochrome LCD display and trip computer and electric windows at the front.
Numerous optional equipment features are also there to make customer's experience more comfortable. A highlight is the JBL Soundsystem, which incorporates a 6-channel DSP amplifier (240 watt) in the fortwo and an 8-channel DSP amplifier (320 watt) on board the forfour.
In addition, the optional heated seats for driver and front passenger,automatic climate control, dashboard instrument with cockpit clock and rev counter, rear parking aid with audible warning and reversing camera offer further scope for individualisation.
Five practical package will round out the new smart generation. Namely they are the Sports, LED & Sensor, Comfort, Cool & Audio and Cool & Media packages. They add from daytime driving lights featuring LED fibre-optic technology, Bluetooth and navigation, to the new smart media system with the 17.8 cm (7-inch) multi-touch display.
The cars are currently available to order with a starting price of €10,335. The delivery is scheduled for January next year.
Smart Fortwo and Forfour Models Specifications:
| | | | |
| --- | --- | --- | --- |
| | fortwo 45 kW | forfour 45 kW | forfour 66 kW |
| Number of cylinders / arrangement | 3/R | 3/R | 3/R |
| Engine capacity (cc) | 999 | 999 | 898 |
| Rated output (kW/hp)at rpm | 45/606000 | 45/606000 | 66/905500 |
| Rated torque (Nm)at rpm | 912850 | 912850 | 1352500 |
| Combined fuel consumption (l/100 km) | 4.5 | 4.7 | n/a |
| Combined CO2 emissions (g/km) | 104 | 108 | n/a |
| Efficiency class | C | C | n/a |
| Acceleration 0-100 km/h (s) | 15.6 | 16.7 | 11.2 |
| Maximum speed (km/h) | 151 | 151 | 165 |
| Price starting at (€)1 | 10,335 | 10,995 | 12,450 |
Source: Smart