Special Model Smart Fortwo Called The Citybeam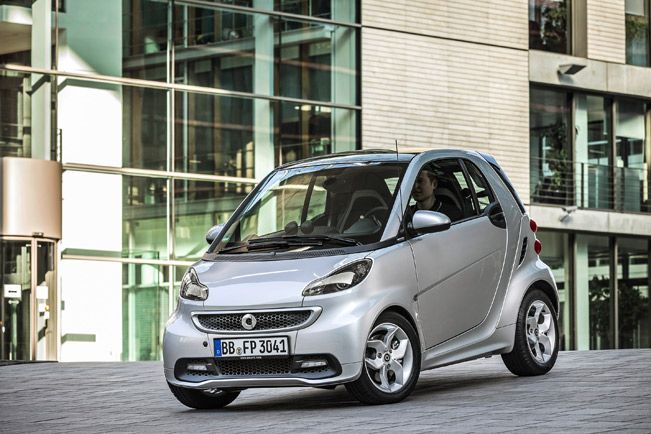 It seems that the Brussels motor show is happening right now, and a particularly unexciting piece of news reached our inbox today. The Smart Fortwo has turned up with a new special edition. It's the Citybeam.
We don't know why they've called it that. We do know, however, that it has its body panels available in light blue, silver metallic or matt anthracite. We had to look up that last one. The Smart's tridion safety cell (that is, it's body) comes only in silver. So why do we get to see the most boring combination of all – silver + silver? Apparently, the Citybeam also boast a special type of 3-double spoked wheels measuring at 175/55 R15 at the front and 195/50 R15 at the back. For the sake of not confusing it for a generic silver Smart, it also has 'Citybeam' written on at the base of the A-pillar, LED daytime running lights and titanium-coloured headlights.
Inside, you get black leather seats with, you guessed it, crystal grey (how is that not silver again?) inserts and stitching. The instrument panel is also covered in leather, so is the wheel and the floor mats read, you guessed it, 'Citybeam'.
In reality. though, the Crystalbeam is a Smart Fortwo Passion (Passion being the equipment line). In other words, a Softtouch automatic gearbox, electric windows, climate control, and a transparent panoramic roof with a sunblind. That last one comes only with the Citybeam Coupe. A Cabrio is also available.
Finally, in terms of power sources, the Citybeam will come with three choices: a 1.0-liter 3-cylinder engine with 71 hp; the same engine but turbocharged with 84 hp; and an electric motor good for 55 kWs of power output.
Prices will start from 14,490 Euros ($19,704).
Source: smart