Smart Fortwo Iceshine Edition in Coupe and Cabrio
Smart Fortwo Iceshine Edition is the latest special model created by Smart, which blends fresh, cheeky look and in addition comes along with chic equipment details. This special model can be preordered in white or in the eye-catching azure blue from June. The first vehicles in this limited series will be in dealerships in October.
First, it is important to highlight that the Iceshine edition is going to be offered as a coupe and as a cabrio. It will come equipped with a 52 kW (71 hp) mhd petrol engine or a 62 kW (84 hp) petrol engine.
This two-seater customization has an unusual appearance. First, the tridion safety cell comes in white. The bodypanels are available in white, or an azure blue. The latter color was developed for this edition.
Other exclusives design cues include the white alloy wheels, with their new 3-double-spoke design and wide tyres in size 175/55 R 15 (front) and 195/50 R 15 (rear). These tie in nicely with the white tridion safety cell and door mirror caps. The LED daytime driving lights and special logo on the mirror triangle also add to the unique outlook of the Smart.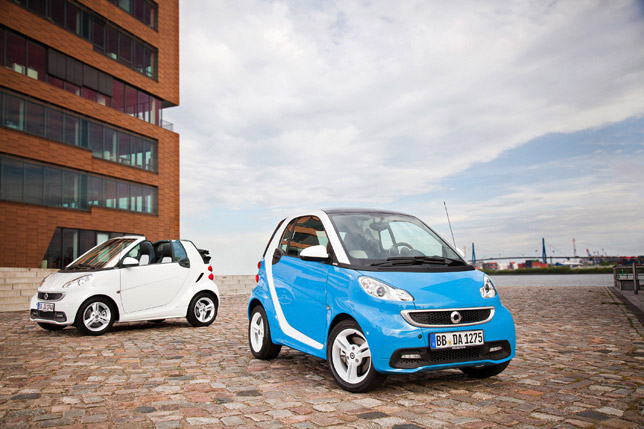 The interior of all Iceshine models includes leather-effect seats with a white fabric insert on the backrest and white stitching, 3-spoke leather sports steering wheel with shift paddles and white stitching. The rings round the dashboard instruments and some contrast components are also painted in white.
Some of the other standard features are: softouch automatic gear programme, electric windows, air conditioning with automatic temperature control, panoramic roof with sunblind, electric power steering, heated seats, a lockable glove compartment, the smart sound system with five loudspeakers.
Part of the optional feature include: smart audio system navigation/multimedia, black leather-effect instrument panel, BRABUS 3-spoke sports steering wheel with steering wheel gearshift and smart cradle for the iPhone® 3/3GS and 4/4S are available for the edition iceshine.
This Iceshine edition of Smart will be limited to 1,800 vehicles. This model is based on the passion equipment line.
Smart Fortwo Iceshie Edition pricing:
Engine/power
Engine type
Engine capacity
Price (€):
smart fortwo edition iceshine coupé
1.0 l (52 kW/71 hp) petrol mhd
3-cyl. in-line naturally aspirated engine
999 cc
14,490.00
1.0 l (62 kW/84 hp) petrol
3-cyl. in-line turbo engine
999 cc
15,060.00
smart fortwo edition iceshine cabrio
1.0 l (52 kW/71 hp) petrol mhd
3-cyl. in-line naturally aspirated engine
999 cc
17,580.00
1.0 l (62 kW/84 hp) petrol
3-cyl. in-line turbo engine
999 cc
18,150.00
Source: Smart