Sporty Audi TT Roadster and Audi TTS Roadster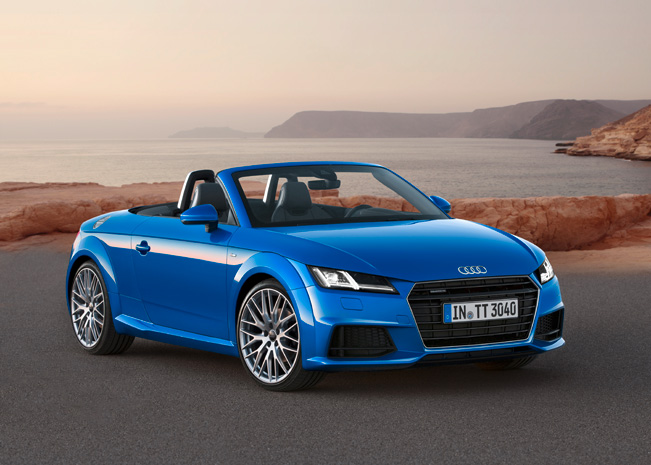 Right on schedule for the Paris Motor Show, Audi has finished its work on the all new TT and TDS models. Both variants look very sporty and compact, though the changes to the power train options and design are almost non-existent, their design is noticeable sportier than the outgoing model, especially on S line models. All TT Roadsters now get new standard symmetrical dual-exhaust tips that differentiate them from the less sporty models.
The front end looks more aggressive, thanks to an enlarged grille, sharp headlights and unique design. Of course, all of these features are identical to the TT Coupe. The obvious change between the MK3 Coupe, which has just started being assembled a month ago, and its new rack top brother, they lack only roof. Audi has engineered a new convertible top that weighs three kilograms (8.6 lbs) lighter than before, using more magnesium, aluminum and plastic.Unlike many modern convertibles that require you to be stationary, the TT Roadster can open and close the top as little as 10 seconds at speeds about 50 km/h (31 mph).
Just like on older models, the passenger compartment has lost its relatively pointless rear seats. The upside is like that, because the top folds over the space they would normally take up. Cargo space is 250 liters.  However, Audi has recently introduced A3 Cabriolet mode, based on the same platform as the TT and offering full seating for four people.
The benefits of using MQB architecture are immediately obvious when you look at the weight. The TT 2.0 TFSI roadster now tips the scales at 1320 kg (2910 lbs), compared to the 1358 kg (2993 lbs)  of the older model.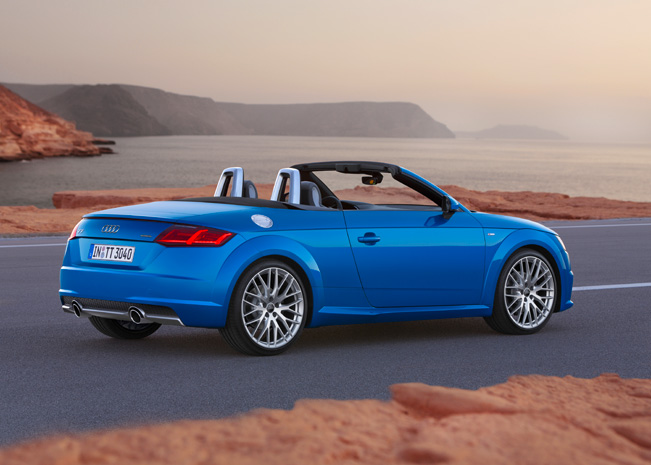 With outstanding, Impressive performance and efficiency, the new TT Roadster is the smallest, lightest convertible Audi makes. With no surpise, this has a huge impact on both performance and fuel consumption. Engine choices have remained identical to the TT Coupe. Regular TT Roadsters are offered with either a 2 liter TDI delivering 184 PS, 280.3 lb-ft (379 Nm) or 2.0 TFSI rated at 230 PS. The new diesel option belongs to the new ultra family of low fuel consumption of just 4.3 liters/100 km  (54.7 US mpg) which reaches CO2 emissions of 114 gr per km.
The downside is that you can get it with a manual and front-wheel drive right now. The TFSI is basically the same engine you get on the Gulf "GB I", but with the difference, Audi allows you to have it with optional Quattro all-wheel drive. There are no performance numbers for those engines yet, but the flagship TDS Roadster packing 310 PS need only 4.9 second to reach from 0 to 100 km/h (0 - 62 mph).
Prices for the TT Roadster will start at 37,900 euros for a 2.0 TSI with forward and manual, only a few hundred euros more if you want a diesel model. However full details wont be available until the start of 2015.
Source: Audi