STARTECH Jeep Compass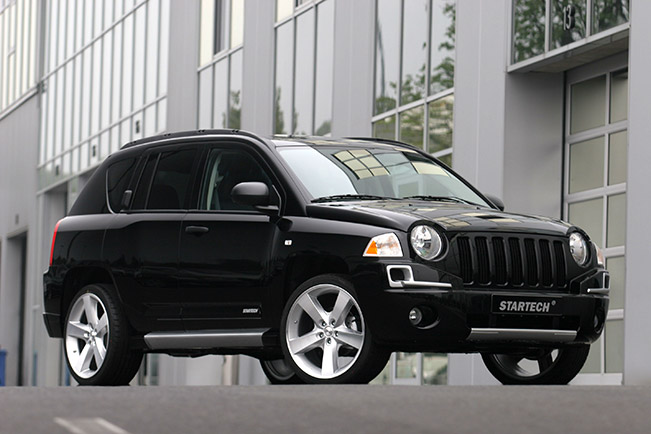 180 hp (178 bhp) / 132 kW of rated power and a peak torque of 360 Nm (266 ft-lb) for the 2.0 CRD model, as well as a wide range of exclusive accessories: STARTECH offers an exclusive customization program for the Jeep Compass that features numerous innovative detail solutions and leaves nothing to be desired.
The STARTECH SD3 tuning kit for the Compass turbodiesel model can be installed by any authorized Chrysler-Dodge-Jeep dealer in less than 30 minutes. It unleashes the true power inherent in the two-liter diesel engine. The additional 40 hp (39 bhp) / 29.4 kW and the enormous torque that's already available between 1,750 and 2,500 rpm, are the result of an auxiliary control module that governs the engine electronics. The engine tuning can be further optimized with the STARTECH stainless-steel sport exhaust. The latter is integrated into the STARTECH individualization concept for this Jeep model based on a brand-new idea.
The two oval tailpipes left and right are seamlessly integrated into the STARTECH rear molding, which is part of the striking designer suit for the Compass. It is styled like an underride guard. The rear molding can also be installed sans sport exhaust.
The replacement for the front apron is also shaped like a modern underride guard and lends the five-door a more aggressive expression. The front can be further refined with two stylized air dams below the turn signals. Their 'eyelashes' give the 4x4 a sharper profile. The STARTECH body conversion is rounded out by rocker panels shaped like running boards.
The STARTECH look is further dominated by custom-tailored tire/wheel combinations for the Compass, available with diameters of 19 and 20 inches, instead of the stock 18-inch wheels. The STARTECH Monostar IV five-spoke wheels are silver polished and fill out the space below the wheel arches nicely. They are mounted in size 8.5Jx19 all around with tires in size 255/40 R 19 or in size 9Jx20 in front and back with tires in size 245/35 R 20 all around.
STARTECH also offers progressive-rate springs that lower the ride height of the American SUV by some 30 millimeters. The lowered center of gravity gives the vehicle even sportier and safer handling characteristics.
STARTECH also adds exclusive and individual highlights in the cockpit. These include stainless-steel scuff plates with illuminated STARTECH logo and high-quality velour floor mats. Exclusive highlights in the Compass cockpit are added with the STARTECH Lifestyle interior upgrade package. It includes leather-covered door trim with embossed Compass logo and color-contrasted ornamental stitching that also adorns the trim piece for the dashboard. The interior is further upgraded with high-gloss silver-coated loudspeaker moldings that are designed to look like a compass.