New state-of-the-art wind tunnel helps shape efficient Volvo cars
One of the world's most advanced wind tunnels is Volvo's new tool in the quest to lower fuel consumption and reduce carbon dioxide emissions. Volvo Car Corporation is the first car manufacturer to own a wind tunnel that fully simulates the airflow around and underneath the car's body, combined with wheel rotation on a flat road surface.
Volvo's 27 square metre, wind-generating chamber is an in-house facility designed with a moving road simulation system to match wind speed and the ability to rotate road wheels at the same velocity.  Volvo identified these features as key to understanding aerodynamic forces in real life driving conditions.  The upgraded tunnel has the ability to move air at speeds up to 155mph via its eight metre carbon fibre blades.
"Our 20 million Euro investment is already paying quick dividends. We have succeeded in reducing air resistance in the new Volvo C30 DRIVe by more than 10 percent. This in turn leads to around 3 grams lower CO2 emissions per kilometre," explains Tim Walker, aerodynamics expert at Volvo Cars.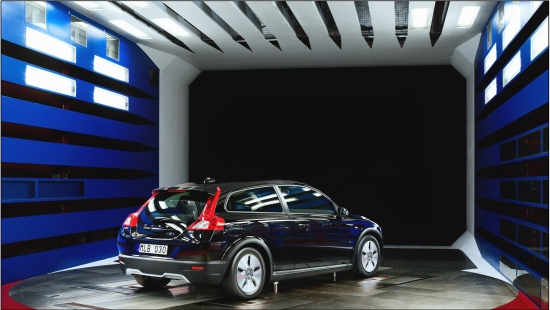 Translated into fuel consumption, this is a reduction by just over 0.1 litre per 100 kilometres according to the official EU Combined Cycle. However in a real driving situation, when speed and therefore air resistance are often higher, the actual saving in fuel can be more than twice as high.
This means that a driver who covers 15,000 kilometres per year will save about 45 litres of fuel – almost a full tank in a Volvo C30.
"With a firm environmental focus for the foreseeable future, our recently upgraded wind tunnel is going to be a particularly valuable tool. Aerodynamic improvements to the body and underside of the car will help us cut CO2-emissions across the whole model range," says Magnus Jonsson, Senior Vice President, Research & Development at Volvo Cars.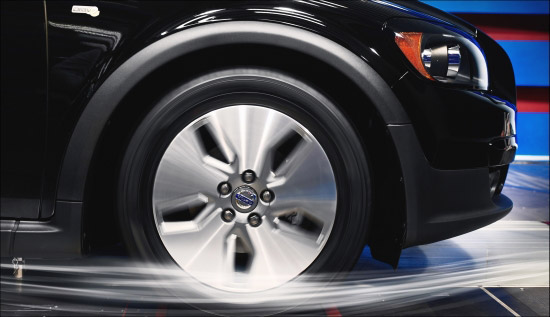 Cutting-edge facility Volvo Cars' wind tunnel was a cutting-edge facility when it was built in 1986 - and 20 years later, after being completely refurbished, it is once again setting the benchmark in the car industry for its precise measurements of aerodynamics.
Since the underside and wheels account for more than 50 percent of a car's total air drag, a traditional wind tunnel, where the vehicle stands still in a flow of air, can provide an incomplete picture of the vehicle's overall aerodynamic properties.
"It's a bit like measuring the aerodynamic properties of a car that is standing still in a car park during a powerful storm. Our new wind tunnel, on the other hand, has been designed to exactly replicate the flow of air around and underneath the car when driving on a real road at speeds of up to 155mph. Our wind tunnel uses sophisticated techniques at the forefront of aerodynamic technology," reveals Tim Walker.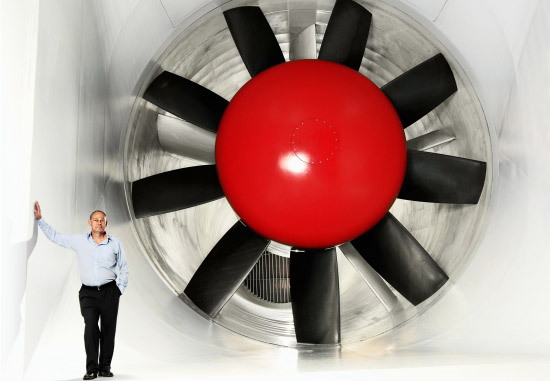 Rolling road and spinning wheels The biggest improvements over the previous wind tunnel can be summarised in three points:
Four flat steel belts that spin all the wheels.

One central, 5.3m long and 1m wide steel belt that simulates the road under the moving car.

An 8.15-metre fan with carbon-fibre blades that generates wind velocities corresponding to road speeds of up to 155mph.
The test car is connected to a highly sensitive balance using four small struts. These struts hold the car in position while the weight of the car is transferred from the tyres to the balance via the flat steel belts.
"This makes it possible to load up the wheels and tyres exactly as they are when driving on the open road. The balance is so sensitive it reacts even if you toss the world's smallest mobile phone onto the front seat," says Tim Walker.
Flexibility is another vital benefit in an industry experiencing increasing pressure on product development lead times. Volvo Cars' experts can handle more than 100 different test configurations in just 16 hours.
Considerable potential In the EU Combined Driving Cycle, with an average speed of just 20mph, air drag accounts for just over one-quarter of total fuel consumption. At a steady 55mph, this increases to more than 50 percent. These figures indicate just how important aerodynamic efficiency is to the car's fuel consumption and environmental properties.
When it comes to the new DRIVe models with CO2 emissions of 115g/km (C30) and 118g/km (S40 and V50), tests in the wind tunnel have resulted in small but effective changes to the front spoilers, under-floor panels, roof and tailgate/boot lid. The changes vary depending on the individual model.1
On the Volvo C30 DRIVe, for instance, coordinated refinements to the roof spoiler, rear bumper and under-floor panels have cut overall air drag by more than 10 percent compared with the current C30 1.6D.
"In the original wind tunnel, the focus was on the body. In the new one, we can obtain an overall picture that also takes in the underside and the wheels. Thanks to the better simulation techniques that the new tunnel offers we have probably improved the aerodynamic drag by a third. It is here that the major improvements will be seen in the future. I would call the forthcoming developments in underside and wheel efficiency a revolution. Up top it's more about evolution," says Tim Walker.
Facts about the new wind tunnel:
| | |
| --- | --- |
| Fan power: | 5 MW (6 800hp) |
| Fan size (diameter): | 8.15m |
| Fan type: | Carbon fibre, 9 blades |
| Wind speed: | 155km/h |
| Wind Speed Accuracy: | +/-0.05m/s |
| Moving ground: | 2-72.22m/s (260km/h) |
| Test Section Size Length: | 15.8m, width 6.6m, height 4.1m |
| Turntable (diameter): | 6.6m |
| Test yaw angle: | +/- 30 degrees |
| Max load on balance: | 3,000kg |
| Max load per wheel: | 1,000kg |
| Balance sensitivity: | +/- 30gram |