Subaru Creates Ultimate Off-Road Forester With SEMA Mountain Rescue Vehicle
Subaru of America, Inc. today revealed the Mountain Rescue Forester® Vehicle, built for the National Ski Patrol (NSP). It will debut at the 2008 Specialty Equipment Manufacturers Association (SEMA) Show that runs at the Las Vegas Convention Center Nov. 4-7. Working with Subaru of America, Detroit-based Specialized Vehicles built the Mountain Rescue Forester Concept as the ultimate first responder vehicle, bolstering its trail-driving capability and equipping it with essential Ski Patrol rescue gear.
Based on the 2009 MOTOR TREND SUV of the Year Subaru Forester 2.5XT turbo crossover utility vehicle, the Forester Mountain Rescue Vehicle is designed to help Ski Patrol crews conduct rescues in difficult terrain and weather conditions. The men and women of Ski Patrol risk their lives in the mountains, fighting avalanches, performing daring rescues and keeping unruly skiers and snowboarders from endangering others on the slopes.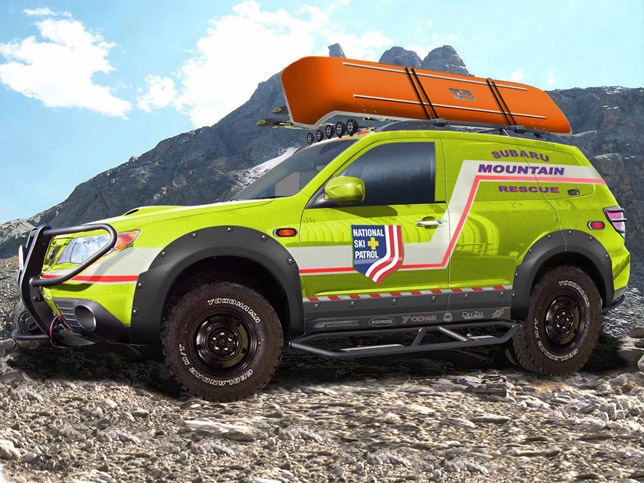 Ready for Rescue Missions Subaru and skiing have gone together since 1974, when skiers first discovered the all-weather traction of Subaru models with 4-wheel drive. In stock form, the 2009 Forester 2.5XT combines Subaru Symmetrical All-Wheel Drive with 8.9 inches of ground clearance, more than other crossover SUVs, which are typically in the 6.5-7 in. range. The Forester Mountain Rescue Concept delivers more than 14 in. of ground clearance through an Air Lift custom adjustable ride height air suspension system.  Added off-road and snow traction is provided by Yokohama Geolandar MTS 30 x 9.5-in. tires on special 15-in. Subaru custom-reversed near-zero offset steel wheels.
For extra protection on the trails, the Forester Mountain Rescue Concept is equipped with custom front and rear skid plates by DeeZee and custom Trail Armor by Bushwacker, including fender flares, lower door cladding, a rear gate guard and tail light guards. Skiers won't have trouble seeing the Forester Mountain Rescue Vehicle coming: an emergency light package, augmented by Subaru Genuine Accessory Baja Sport Activity Lights, ensures visibility from a distance and in all types of weather.
To illuminate a rescue site, the vehicle is equipped with roof mounted Visi Light LED spotlights – five in front and two in the rear – by Hamsar Diversco. Topping off the concept vehicle's distinctive styling, a DeeZee custom grille guard helps protect the Sport Mesh Grille from Subaru Genuine Accessories.
Once on the rescue site, the Ski Patrol crew can use an Ultimate Performance 9.5i Thermometric 9,500-lb. winch by WARN. Remote rear door openers and external quick-access utility compartments play a vital role when time is of the essence. Extra wide round crossbars help secure the Subaru Yakima ski carriers, which on this vehicle hold Nordica snow skis. A rescue toboggan from Cascade rounds out the rescue equipment.
Subaru is proud to be the official vehicle of the NSP, a nonprofit organization headquartered in Lakewood, Colorado and dedicated to serving the public and the ski industry by providing education on emergency care and safety. Subaru has been the Official Vehicle of the NSP for many years and for good reason – Symmetrical All-Wheel Drive, robust construction and durability make any Subaru ideally suited to tough winter conditions.