Subaru Impreza WRX STI S206
Subaru has announced the new special edition Impreza WRX STI S206, which hits the Japan market. It is based on the 4-door SUBARU IMPREZA WRX STI and features exclusively-made items in both interior and exterior designs. As with former STI models such as S204 and R205, S206 is founded on the IMPREZA WRX STI line. The exterior modifications includes a new front spoiler, a revised grille, ventilated fenders and 19" BBS wheels with Michelin Pilot Super Sport tires. You can also opt for the NBR challenge package, which adds a carbon fiber roof, a carbon fiber rear spoiler and black BBS wheels.
The interior boasts a genuine leather-wrapped steering wheel, "RECARO" racing bucket seats, and seatbelts.
The WRX STI S206 also comes with a front tower brace, Brembo brakes and specially tuned Bilstein shocks. The chassis is stiffened and the VDC (Vehicle Dynamics Control) system is also revised.
Furthermore, you'll get more power because of the ECU re-map, upgraded pistons and a high-performance crankshaft. The turbocharged boxer engine delivers 320PS (235 kW) and 431Nm (318 lb-ft)
Only 300 units will be produced.
Check out the full specs, below!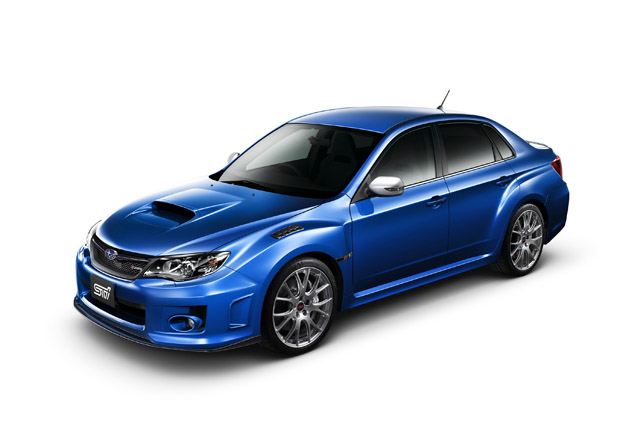 Subaru Impreza WRX STI S206:
-Mechanism-
•    STI tuned Bilstein upside down strut and STI coil springs for front suspension •    STI tuned Bilstein damper and STI coil springs for rear suspension •    S206 BBS designed 19-inch x 8 1/2J forged aluminum wheels (silver) •    Michelin Pilot Super Sports 245/35ZR19(93Y) tires •    Brembo 6-pot silver colored brake caliper with STI logo and 18-inch 2piece type drilled disk rotors for front brake •    Brembo 4-pot silver colored brake caliper with STI logo and 18-inch drilled disk rotors for rear brake •    STI designed flexible front strut tower brace •    STI designed flexible draw stiffener, front •    STI designed flexible support, rear •    STI designed support, front kit •    STI designed lateral rink with pillow ball bush (front inside, rear inside) •    S206 engine balanced with STI •    STI designed S206 ECU (Engine Control Unit) •    S206 twin scroll ball bearing turbocharger •    STI designed S206 sport muffler with lowered back pressure exhaust •    Large intercooler with S206 logo •    STI designed strengthened silicon intake duct •    STI designed air cleaner element •    S206 multi mode VDC (Vehicle Dynamics Control)
-Interior-
•    S206 RECARO designed front bucket seat •    S206 seat fabric, ALCANTARA® with black punching / red base, leather seat support (dark gray) with silver stitch •    S206 door trim & centered arm rest (black ALCANTARA® with silver stitch) •    S206 dark red colored seat belt •    S206 silver side sill plate with S206 logo (front) •    S206 leather lapped steering wheel with STI logo and silver stitch •    STI designed leather shift knob with STI logo and leather shift boot •    S206 leather side brake boot •    STI designed push engine start switch (red with STI logo) •    S206 serial number plate (console, engine compartment) -Exterior-
•    S206 large front under spoiler •    S206 front fender outlet grille •    Aluminum front hood •    STI designed trunk lip spoiler •    S206 badges on front grille and rear gate •    STI designed side garnish with STI logo (black metallic)
-Exclusive for NBR CHALLENGE PACKAGE-
•    Carbon roof •    S206 dry carbon rear spoiler (2 angle adjustable with S206 logo) •    BBS designed 19-inch x 8 1/2J cast aluminum wheels (black) •    S206 Nürburgring Challenge sticker (rear) •    S206 red side sill plate with S206 logo (front)
< Marketing >
•    Maximum 300 units (must be pre-ordered by May 7, 2012) •    [Including maximum 100 units of NBR CHALLENGE PACKAGE that must be pre-ordered by March 19, 2012] •    Pre-orders for the "NBR CHALLENGE PACKAGE" have reached the limit for units available. •    [Exterior color "Lightning Red" must be ordered by February 6, 2012]
Source: Subaru