Subaru Impreza WRX STI with a lap record at Isle of Man
Mark Higgins set a new lap record on the Isle of Man circuit with Subaru Impreza WRX STI. The former rally chmapion stopped the clock at 19 minutes an 56.7 seconds for 60.83 km (37.8 mile) road course. The average speed was 182 km/h (113 mph) and a top speed of 261 km/h (162 mph).
"Setting the record was both the most exhilarating and the most frightening thing I have ever done," said Higgins
"The rules allow for a flying start, so I crossed the line at 125mph. I then went down through the Bray Hill junction - normally taken at around 20mph - at over 150mph. Once that tricky section was out of the way I settled into the lap and quickly got used to the balance and sheer pace of the car.", he added.
"In the end the lap was simply fantastic, and the WRX STI behaved impeccably," explained Higgins.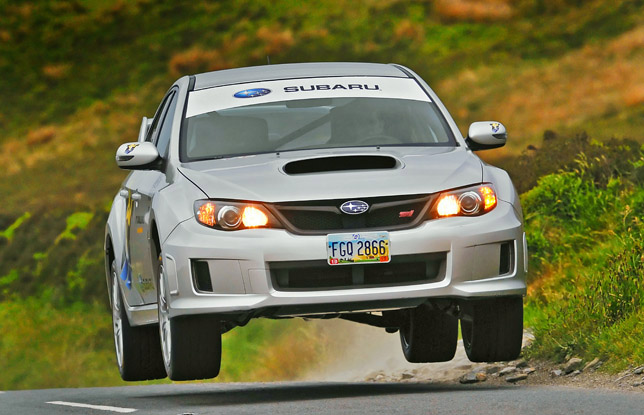 "That we managed to set such an impressive time at our first attempt is a great tribute to the Subaru, especially given that so few modifications have been made. The engine pulled incredibly strongly throughout and the cornering capability proved crucial on such a twisty, unforgiving course.", he finished.
The new record is over 2 minutes faster, than the previous set 21 years ago by Tony Pond in a Rover 827 Vitesse.
Subaru Impreza WRX STI is powered by a 2.5 liter four-cylinder turbocharged petrol with 300PS (225 kw) and 350Nm (258 lb-ft). However, the model which Higgins raced has an MSA-spec T45 integrated roll cage, TRS race harness and a Lifeline fire extinguisher system.
Source: Subaru