Suzuki Kizashi Ecocharge Concept
Suzuki has unveiled Kizashi EcoCharge Concept at the 2011 New York International Auto Show (NYIAS).
"We are continuing to study the virtues of the gas-electric technology found in the Kizashi EcoCharge Concept," commented Steve Younan, director of automotive marketing and product planning for American Suzuki Motor Corporation.
"Our basic concept was to attain substantial gains in fuel economy without the traditional sacrifices in drivability required with today's mid-size hybrid sedans. The proof of our concept is that the Kizashi EcoCharge has the capability to deliver a 25% fuel economy gain in real-world driving through an electric charge to the powertrain system while still retaining the production Kizashi's dynamic handling and braking advantages that make it a standout category performer.", he added.
Kizashi EcoCharge is powered by a 2.0 liter four-cylinder petrol engine coupled with an advanced electric propulsion system, which consists of a liquid-cooled 15-kW motor/generator unit tied to a 115-volt air-cooled lithium-ion battery. The whole system is mated to an advanced 6-speed automatic transmission.
Kizashi EcoCharge also includes regenerative braking, automatic engine shut-off when the car comes to a stop, fuel cut-off during deceleration events and low-rolling resistance tyres.
The exterior boasts a specialised headlight treatment, as well as LED foglight illumination integrated into the front fascia. It also features lightweight aluminium wheels fitted with lowrolling resistance tires.
The interior is completed thanks to advanced seat materials, which require 84 percent less energy to produce, and create 80 percent fewer emissions than virgin material production.
The whole car is ECOfriendly, so Suzuki will save the planet... probably!
Check out the specs, below!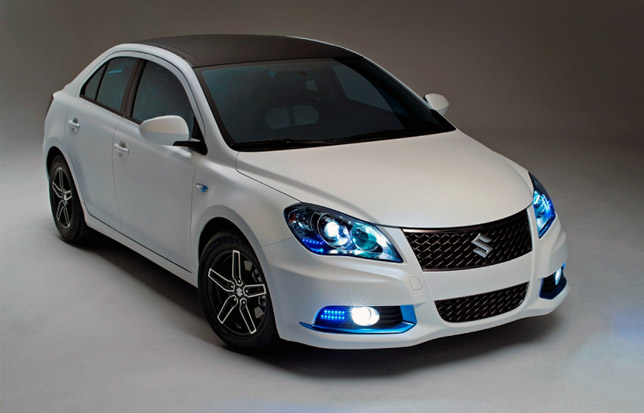 Kizashi EcoCharge Concept:
Engine
Displacement (cu in / cc): 1,998
Horsepower (hp / kW @ rpm): 144 / 106 @ 6500 rpm
Torque (lb-ft / Nm @ rpm) 127 / 173 @ 4500 rpm
Fuel economy target (Hwy): 25% improvement over production Kizashi
Transmission
Electric Drive System
Type: Belt-driven, liquid-cooled induction motor/generator unit and lithium-ion battery system; air-cooled power electronics and battery pack
Maximum electric generating power: 15 kW @ 1,570-3,180 rpm
Maximum electric motor power (electric assist): 15 hp / 11.2kW @ 1000-2200 rpm
Lithium-ion battery: 115V, 0.5-kWh, 15 kW peak power
Source: Suzuki