Team Ocelot presents new light protected patrol vehicle – LPPV concept
The Ocelot is a 7 and a half tonne vehicle.  It has  four wheel steering giving it a market leading turning circle of 12 metres and has a low centre of gravity as all the heavy items are contained within the skateboard. It is 5.3m long, 2.3 high and 2.1 wide.
Team Ocelot – a unique collaboration between Ricardo and Force Protection Europe – has today launched a revolutionary new light protected patrol vehicle (LPPV) concept offering the potential for much higher standards of occupant protection and operational flexibility than today's defence light vehicle products.
The new Ocelot LPPV vehicle was unveiled at the Defence Systems & Equipment International Exhibition, the world's largest fully integrated international defence exhibition, at London's ExCel arena.  Starting from a completely clean sheet design, Ocelot brings together some of the very latest innovations in automotive and defence technologies to deliver a highly practical vehicle designed for deployment in the most demanding and hostile of operational environments.  Based on a modular design, Ocelot comprises a core automotive armoured spine or "skateboard" onto which one of a number of alternative special to role "pods" is mounted. These roles include a patrol, fire support or protected logistics vehicle and the pods are easily interchangeable in the field as the need requires. The V-shaped hull configuration formed by the combination of skateboard and pod, coupled with the use of the latest in advanced composite technology, provides a practical vehicle package with exceptional manoeuvrability, operational flexibility, and unparalleled levels of occupant protection for a vehicle of its class. Moreover the protection provided by the skateboard spine to its internal automotive systems, provides a much higher level of operational robustness.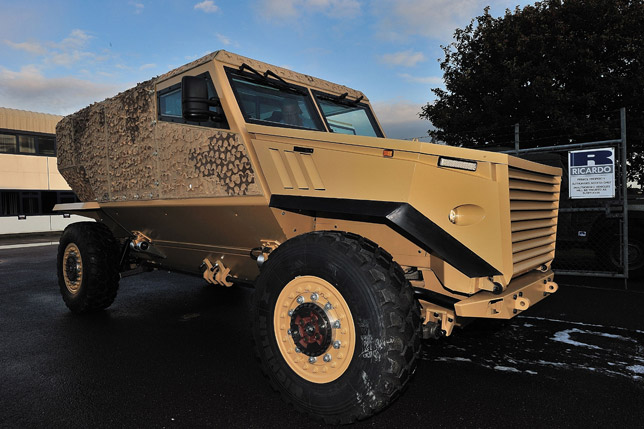 Commenting on the launch of Ocelot, David Hind, MD of Force Protection Europe Ltd, said:
"By designing from a clean sheet we have adopted a novel design which is a complete departure from the standard practice of basing mine resistant vehicles on a standard chassis design. We are confident that the V-shape design of Ocelot means it not only meets today's blast resistance requirements but those expected in the future."
Dave Shemmans, CEO of Ricardo plc, added:
"We are extremely pleased to have been able to work with Force Protection Europe to create this exciting new vehicle concept. Ocelot offers a highly practical defence vehicle solution to current and future operational requirements, while also providing unparalleled levels of occupant safety against the very real and present threats of a hostile theatre environment.  This is just another example of how Ricardo is able to work with its partners and customers to deliver the very latest in automotive innovation and technology in truly exceptional defence vehicle solutions."