TEASER: DMC Ferrari 458 Italia ESTREMO Edizione 10/10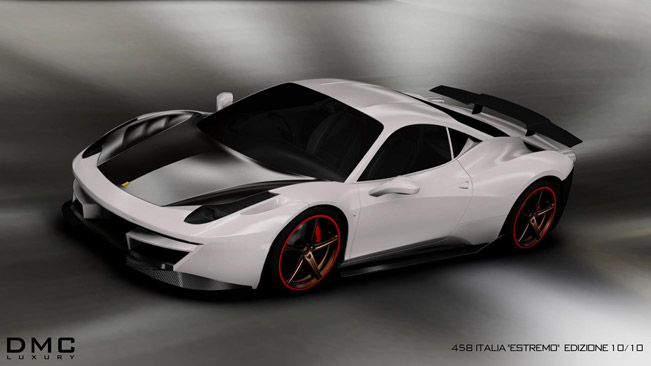 The German luxury tuner DMC has just released the firs teaser image of its latest Limited Edition project. In it the designers and engineers at the refining company are again expressing the freedom to use the latest high-tech, without any boundaries. DMC proudly presents the DMC Ferrari 458 Italia ESTREMO Edizione 10/10.
The transformed Ferrari vehicle is kept in secret and is currently being assembled by DMC's partner in Japan for the 1st client in Tokyo. As one can see from the image, the car has a completely new front fascia that has extreme air channels for better cooling and in addition supports additional downforce.
Furthermore, there is also modified new side-vented front hood which creates lighter specs and a one-of-a-kind visual stance. The side panels in this project add an aggressive touch and were redeveloped to smoothen windflow.
At the back, the entire rear facia is made of carbon fiber, and creates additional dowforce thanks to the massive wing spoiler, which further contributes towards the design character of DMC's kit. The total weight saving is roughly 60 KG compared with the stock car.
Plenty of photos and more details will be unveiled near official launch.
Source: DMC