The 2013 Toyota Land Cruiser improves the brake-control system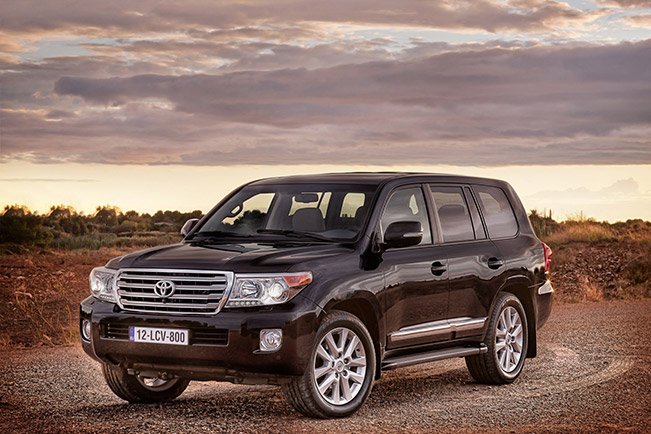 The top-class 2013 Toyota Land Cruiser excels the expectations as promises to be luxurious and unleash its off-road capability.
It comes standard with the 5.7-liter Double Overhead Cam (DOHC) 32-valve V8 engine under the hood and produces 381 hp and 401 lb.-ft. of torque. The 2013 Land Cruiser has a six-speed automatic transmission and sends power to the 4-wheel drive system.
The items that used to be optional in the previous Land Cruisers are now standard. It concerns exterior and interior parts as well.
When it comes to safety, the Land Cruiser gives plenty to appreciate. It is equipped with 10 airbags and also includes driver and front passenger knee airbags. The front seats include active headrests that help reduce the severity of whiplash injuries.
The multi-terrain SUV, Toyota Land Cruiser is going to provide as safe and convenient drive as possible. Though it comes with the standard STAR Safety System, the 2013 Land Cruiser will have the all new 5-speed CRAWL Control featuring an Off-Road Turn Assist. The CRAWL Control balances speed and outlet as well. Along with the CRAWL Control, the other brake systems include anti-lock brake system (ABS), electronic brake-force distribution (EBD), brake assist (BA), active traction control (A-TRAC), and finally, VSC (with a cut-off switch).
In block, the brake system helps to adjust to an off-road surface and keep controlling the vehicle. EBD equals braking forces between the front and rear wheels, and the BA serves as an auxiliary in emergency braking. A-TRAC maintains traction and distributes the drive force while accelerating. VSC supplies directional control while cornering and operates engine torque and individual wheel-braking influence in case of tire slippage.
The Smart Stop Technology (SST) is the most prominent 2013 Land Cruiser's feature concerning safety. It is capable to completely stop the vehicle at the speed over 5 mph and apply brakes firmly for a half second or longer.
The 2013 Land Cruiser's benefit number one is its brake assist, so that safety is guaranteed always and everywhere, be it a slippery winter highway or an off-road.