The All new Vauxhall ADAM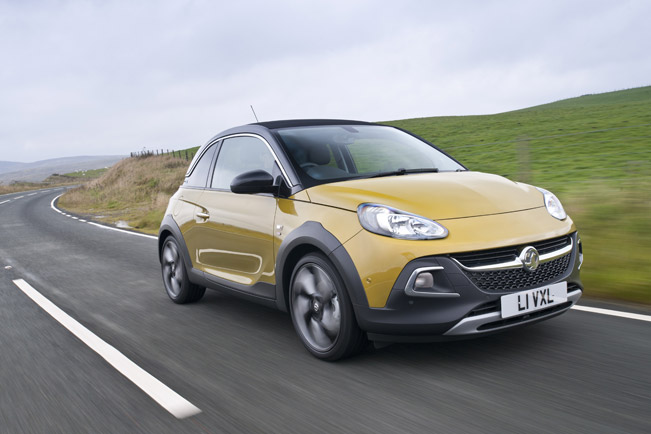 The new Vauxhall ADAM is like no other car. With a style to compete with MINI and A1, ADAM hits the market astonishing speed. Over the past few years the car has become highly competitive. Although it's not the ideal compact, affordable and cheap to run, the ride scores A+ about its options for personalisation as well as 30,000 different style combinations and in-car tech.
With its own personal style the car has two ways to go on the styling front.  It either tries to look modern or retro. However the ADAM is taking the modern approach. Like other members of the ADAM family, ROCKS AIR seems to be taller, wider and tougher in appearance. The buyers are given the opportunity to put their own personal touch in the car being able to choose between bright colors and option of painting the roof in a different shade.
As far as for the interior, Vauxhall manages to offer a decent level of spec, comfortable seats and other trim elements – all unique to ROCKS, as well as cup holders, glove box and many more. Prices are reasonable as well, for instance the infotainment screen right next to the leather steering wheel, which is a must, comes with a price of £275.
As for getting comfortable, there are plenty of adjustments in the seats Being the ideal city car, with its really light steering you are able to handle traffic jams a lot easier.The recently launched 1.0-litres three-cylinder turbo petrol engine provides a more fitting driving experience, its 113 bhp and 170 Nm of torque will see you hit 0-62 mph in 9.9 seconds and on to a 121 mph top speed.
This inevitably brings me to the part where I have to talk about the car's downsides. By taking you out of the city you will find the ride a bit firm.The car is a bit bouncy on bumpy road surfaces.The engine itself does not have much power accompanied by very little feedback on how the front wheels are behaving. Fuel economy is not exactly mind blowing. The trunk lacks a lot of space; it's not exactly fitted for a family holiday.The backseats provide very little space as well. I would not necessarily call them spacious.
Overall a great car for those under 35 and pre-family, although the car really fits in the position of a second family car. Suited for city life this car is best not taken out in the country side, you would enjoy one sweet ride.
More detailed range, pricing and equipment can be read right below:
Remote Central Door Locking with ROCKS design flap key
CD 3.0 BT
Speakers  (6+1 speakers)
DMB
Leather wrapped steering wheel w/ Deco Elements, CCtrl & IRC
ROCKS AIR interior visual content
Cloth/Morrocana Seats
ROCKS AIR exterior visual content: cladding, bumpers etc
17" alloys - Swissblade design
Deeply tinted glass - "black" - rear of B-Pillar incl. tailgate
Electric folding canvas roof
LED DRL Signature Lamps
LED Tail lamps
15 mm raised chassis
Chrome DLO
Vauxhall sill plates
The following options are also available:
IntelliLink
Park Assist rear
Floor Mats (standard w/ ROCKS AIR unique Brandy interior)
Car Alarm
Infinity Sound System
Leather trim
Interior decors – painted / foil
Backlighted foil decor
Start / Stop
17" & 18 Alloy Wheels
Exterior mirror caps
Interior mirror caps
Coloured logo bar
Additional technical data
Six-speed manual gearbox:
Standard on 1.0-litre ECOTEC 12v Direct Injection Turbo (115PS) ecoFLEX Start/Stop
Five speed manual gearbox:
Standard on all models except 1.0-litre ECOTEC
Economy
| | | | | | | | | |
| --- | --- | --- | --- | --- | --- | --- | --- | --- |
| | Max Speed | 0-62 mph | Urban | Extra Urban | Combined | CO2 | First Year | Second |
| 1.2 16v VVT (70PS) (17/18) | 103 | 14.9 | 39.2 | 65.7 | 53.3 | 125 | £0 | £110 |
| 1.4i 16v VVT (87PS) (17/18) | 109 | 12.5 | 40.9 | 64.2 | 52.3 | 126 | £0 | £110 |
| 1.0 12v Direct Injection Turbo ecoFLEX Start/Stop (17/18) | 121 | 9.9 | 44.8 | 64.2 | 55.4 | 119 | £0 | £30 |
Brakes
Anti-lock Braking System
Electronic brake force distribution
Emergency brake assist
Cornering brake control
Straight line stability control
Dual circuit, diagonally split braking system
Fuel tank capacity
38 litres (8.4 gallons)
Steering
Speed-sensitive power-assisted steering
Suspension
Front: Independent. MacPherson struts with gas-pressure dampers and coil springs. Anti-roll bar.
Rear: Compound crank with coil springs and gas-pressure dampers.
Engines
Petrol
1.2I 16v VVT ECOTEC -4
Capacity
1229cc
Maximum power
70PS @ 5600rpm
Maximum torque
115Nm (85 lb.ft.) @ 4000rpm
Configuration
4 cylinders, 4 valves per cylinder, double overhead camshafts
Fuel/induction system
Naturally aspirated. Variable Valve Timing (VVT). Multi-point sequential fuel injection
Emission compliance
Euro 5
Service interval
20,000 miles or 1 year (whichever occurs sooner)
Benefit in kind company car taxation rates – 2014/15 tax year
Without Start/Stop
18%
1.4i 16v VVT ECOTEC-4
Capacity
1398cc
Maximum power
87PS @ 6000rpm
Maximum torque
130Nm (96 lb.ft.) @ 4000rpm
Configuration
4 cylinders, 4 valves per cylinder, double overhead camshafts
Fuel/induction system
Naturally aspirated. Variable Valve Timing (VVT). Multi-point sequential fuel injection
Emission compliance
Euro 5
Service interval
20,000 miles or 1 year (whichever occurs sooner)
Benefit in kind company car taxation rates – 2014/15 tax year – 18%
1.4i 16v VVT Turbo ECOTEC-4
Capacity
998cc
Maximum power
115PS @ 5200rpm
Maximum torque
170Nm (125lb.ft.) @ 1800-4500rpm
Configuration
3 cylinders, 4 valves per cylinder, double overhead camshafts
Fuel/induction system
Water-cooled turbocharger with intercooler, Variable Valve Timing (VVT), Central direct injection
Emission compliance
Euro 6
Service interval
20,000 miles or 1 year (whichever occurs sooner)
Benefit in kind company car taxation rates – 2014/15 tax year – 16%
Source: Vauxhall