The UK's Fictional 'Nightmare' Car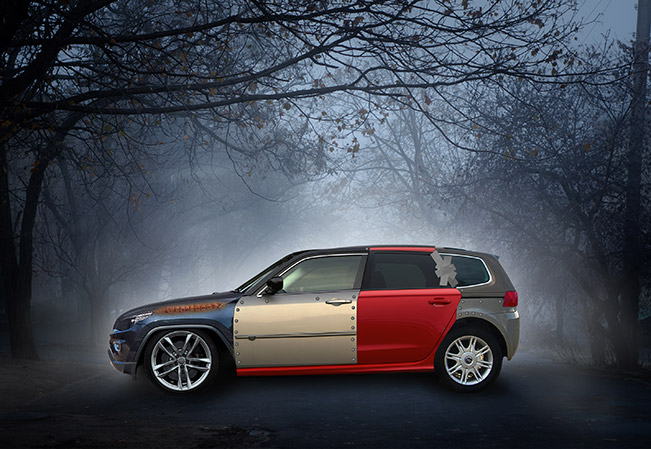 The UK-based automobile specialist Warranty Direct has revealed the UK's one and only "nightmare" car. Beware, people! The body parts of this vehicle is a combination of bits and pieces of the worst-performing cars from a number of categories measured by their Reliability Index. Or should I say, "Unreliability" instead? Nevertheless, it is quite unique in a really ironical way. After all, not every day one can "enjoy" such amalgamation of the worst components ever.
Warranty Direct managing director, David Gerrans, has stated that; "The Horrific 40RR0R is a bit of fun that will, thankfully, never be built, as it stitches together the cars that perform worst in each of the mechanical categories we measure."
This Frankenstein disaster has the engine of a BMW, the electrics of a Mercedes and the suspension of an Audi. It will probably provide the "perfect" transport for you to some Halloween party. The cost of this disastrous fictional creation called Horrific 40RR0R is about 550 GBP.
The Reliability Index is used to estimate the endurance of vehicles and their efficient functionality. It is done by calculating how often a failure has occurred, average cost of repair, age and mileage. The less a car scores in the Index, the more reliable it is. Precisely, if an average car sets 100 in the Index, the Horrific 40RROR is supposed to be five times worse with a Reliability Index figure of approximately 500.
The full composition of this horror-machine's body-parts is comprised of:
BMW M5 engine Audi RS6 axle and suspension Jeep Grand Cherokee gearbox Mercedes-Benz R-Class electrics Fiat Multipla braking system SEAT Alhambra air-conditioning Chrysler 300C steering system
Source: Warranty Direct