The "Unofficial" Mini Guide To Scions At The 2008 SEMA Show
Here's a sneak peek at what you'll see at the Scion booth this week. We're located near the north side front entrance of Central Hall, #20703. See you in Vegas!

RUTHLESS CARTELL SCION xD by DRAG CARTEL INDUSTRIES
Background The Ruthless Cartel xD, by Jeremy Lookofsky and Drag Cartel, brings back the open air look of the 1960s with a new twist of technology and body lines. By chopping the top four-inches, and removing the B-pillars and a large part of the roof, this xD is SEMA ready.
Highlights • TRD intake and sport muffler • Wilwood 13'' SRP hat and rotors, DynaPro four-piston radial mount caliper • Custom cartel rear love seat • White leather and black accents on front seats, and door, audio and trim panels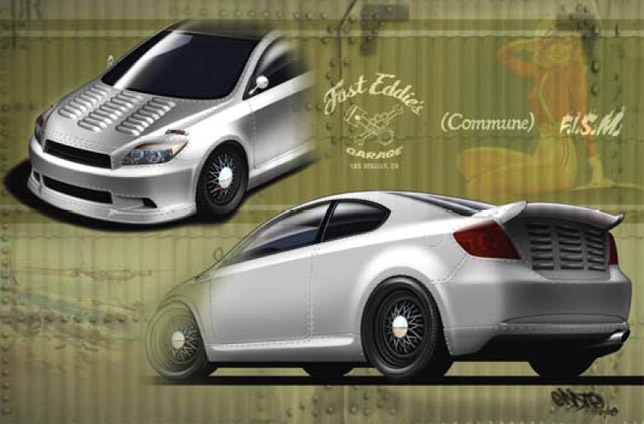 NEU-VINTAGE SCION tC by EDDIE HAHM
Background The purpose behind this build was to bring forth a different perception of what a "tuner" can be—a "crossover" of sorts. The style harkens back to a time when genuine craftsman ship, "coach-building" and passion dictated what a finished build should look like. Taking cues from the salt flat race cars of early Bonneville, World War II aircraft inspiration that was so prevalent in post war hot rods and high dollar (Pebble Beach anyone?) pre-war, coach-built automobiles of the 1930's, this build blends vintage with modern mechanics onto a Scion tC. The term "tuner" has become synonymous with a particular look, style and type of build, but this car will shatter all previous stereotypes.
Highlights • Custom one-off O2 Motorworks race header • Five Axis Design lip kit and grille • 1948 Buick fender mascots • Custom six-point roll cage with dimple-died panels, rear riveted aluminum floor panels, one-off aluminum bomber bucket seats by Frank Wallic, seat brackets, aluminum gauge pods, (Commune) military canvas seat cushions, upholstered door and rear panels in military canvas, shifter arm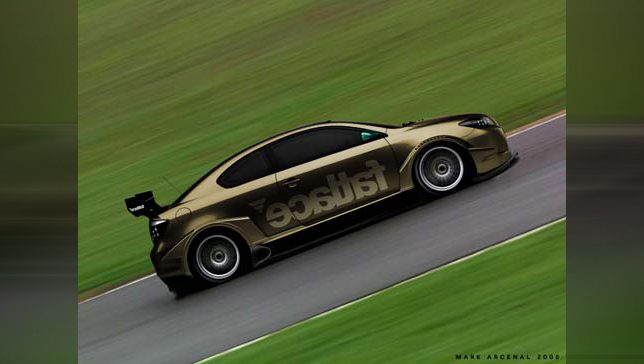 SCION tC by MARK ARCENAL
Background For the Tuner Challenge, Mark Arcenal created a Deutsche Tourenwagen Masters (DTM) themed tC that hugs the road with a B-Magic body kit. An Origin DTM wing and louvers over the fenders make this car look ready for the European race circuit. Arcenal has been building cars for more than 12 years.
Highlights • TRD supercharger • Custom Autumn Copper Paint • Fatlace custom two-piece cast aluminum four-piston calipers • Sparco 2 Circuit Pro Seats w/ rails and sliders, 310X260 - steering wheel, quick release, black six point belts, fire extinguisher and mount, battery switch, pit board and numbers, 3 LED SAT, Navigator foot rest, grip pedals, Luxor shift boot, RACING shift knob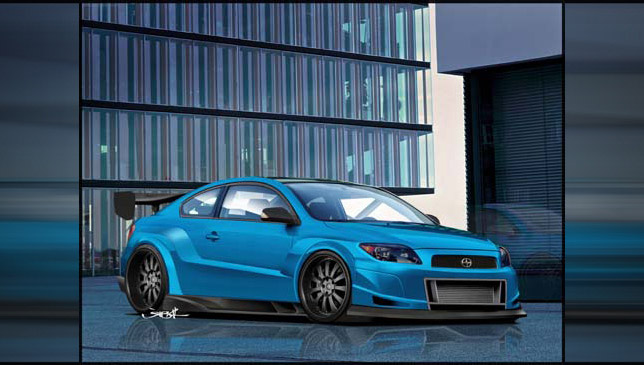 SCION tC by JOHN PANGILINAN
Background John Pangilinan created a clean and aggressive widebody tC with plenty of in car entertainment to rock SEMA.
Highlights • Jon Sibal designed one-off custom widebody by DTM Autobody • JLine – custom11RL3 three piece wheels – charcoal-T with semi gloss black lips • GReddy turbo timer, Profec B-Spec II, pressure gauge and boost gauge • Rockford Fosgate T1500 Punch mono amp, T400 Punch 4channel amp, (4) P3D212 Punch 12" shallow subs, T162S Power component system, cables, fuse holder, distribution block, battery terminal, and circuit breaker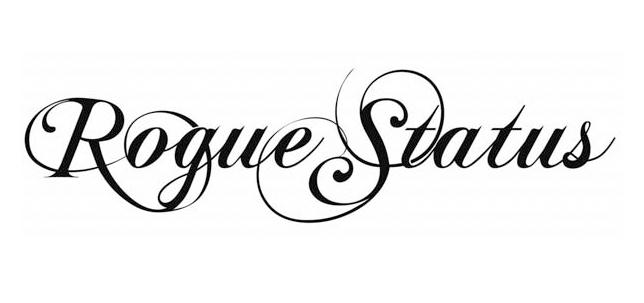 SCION xB by ROGUE STATUS (2008 GUMBALL RALLY WINNER)
Background The Rogue Status xB was the winner of the 2008 Gumball Rally and brings style to SEMA with its unique modifications.
Highlights • 20 X 8.5 Capital Forged wheels with three-piece "London" design with black powder coated finish and custom yellow pinstripe • Custom moonroof • Memphis Car Audio single channel 1100 amp (1), four channel 75x4 amp (1), 6.5" speakers (2 sets), an amp wiring kit and capacitor • Bomex aerodynamic kit • Eibach suspension
DESCENDANT ULTIMATE SCION xB by CHRISTIAN RADO
Background Chris Rado saw was potential for speed, performance, and of course style in the second generation xB. The Descendant Ultimate xB is a track worthy vehicle and can compete in the Modified FWD Classes in current Time Attack events. It is also a street legal show monster with high-tech interior audio components, race electronics and hardware. This xB has four seats, an easily removable drink cooler with an integrated rear video monitor, plus functioning A/C, power windows, defrosters, and wipers.
Highlights • 900Hp WORLD Racing built Brian Crower stoker 2.7 liter 2AZ-FE engine • Descendant turbo exhaust manifold, custom turbo kit with Bullseye S362 turbo, intake manifold and fuel system • Chris Rado time attack spec custom widebody • B&C Car Audio custom install and fabrication of black suede door panel inserts, trim panels, audio panels, dash panels, and rear drink cooler video display system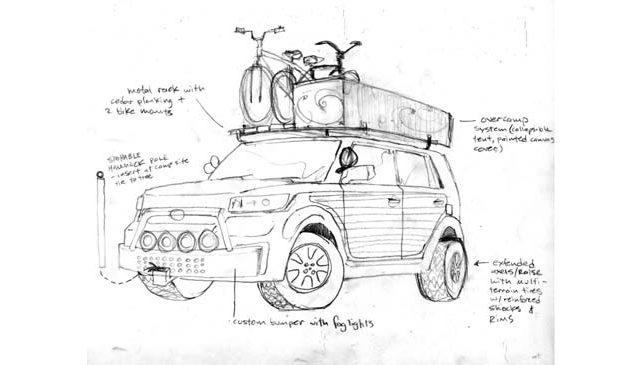 SCION xB by BLAINE FONTANA Background Blaine Fontana turned an xB into a Raleigh-inspired multi-purpose camping utility vehicle for the ultimate Scion road trip. For comfort and convenience this xB features a Corian sink with stainless faucet, mini fridge, dog door, a roof rack.
Highlights • 400 watt wind powered generator • Custom red maple cabinets, lift, wheels, tires, front bumper with laser star lights and hammock post, and miscellaneous camping food supplies • Dog quarters • External "heated" shower • Sliding stainless gas range stove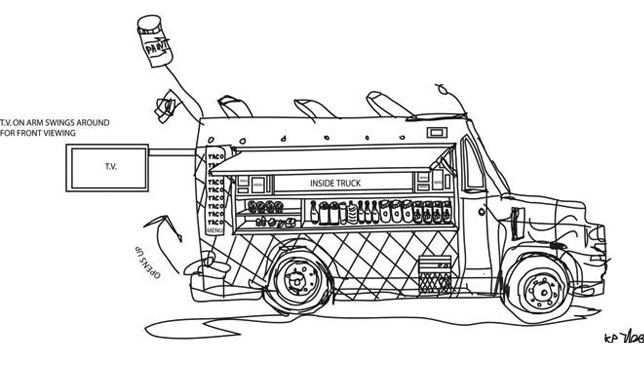 SCION xB by KENTON PARKER
Background Kenton Parker's interpretation of the Scion xB pays homage to the taco truck, a Los Angeles icon. Parker's version has is a cornucopia of cool stuff and features his favorites on the menu.
Highlights • White aluminum skin • Stainless kitchen • Diamond plate floors • Stainless sink • Industrial stove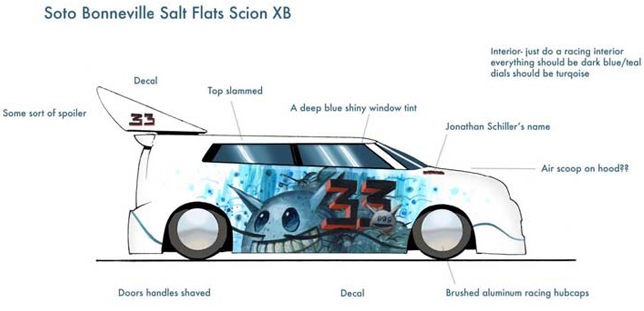 SLAMMER SCION xB by JEFF SOTO
Background Jeff Soto takes Scion to a new level with the Slammer xB. This xB is ready to race with its new aerodynamic shape which includes shaved door handles, custom aluminum wing and parachute.
Highlights • Two-door conversion • Reshaped roof and shaved rails • 6.5" raked chop top • Blue Lexan windows • Moon wheels
SCION xB by RAGING BULL
Background The Raging Bull xB costs into SEMA chopped and widened with House of Kolor three stage Kandy Purple paint with a metallic gold base.
Highlights • Custom intake manifold, individual throttle body setup showing through hood • Roof line chopped 4.5" and roof widened 3" • Modified Seibon carbon fiber hood • Webasto sunroof • Rat rod brass knuckle shifter

SCION xBt by MVDESIGNZ
Background MVDesignz gives the xB additional utility and show for SEMA! The Scion xBt's unique customization features MV Designz truck conversion, custom wide body kit, front and rear fascia, motorized tailgate
Highlights • Matt Hotch pop up gas cap • TRD lowering springs and Big Brake kit • USW Forged wheels • Alpine Electronics IVA-W505 head unit, SPS-600C and SPS-600 speakers, SWS-1043D subwoofer, PDX-5 amplifiers