Top score for the Golf in the new EuroNCAP test procedure
Once again the latest Golf has received five stars in the EuroNCAP evaluation: the European crash test programme EuroNCAP awarded the new Golf the highest score of five stars, even according to the stricter and more comprehensive assessment criteria. Furthermore, the Golf received the highest overall rating of any vehicle. In the latest rating of the EuroNCAP all safety and assistant systems of the individual vehicles are now being assessed. Up until now, safety systems such as the Electronic Stability Programme (ESP), which is fitted in the Golf as standard, were not taken into account in the evaluation.
Since February 2009, a vehicle must receive a minimum value in all four categories (adult occupant protection, child occupant protection, pedestrian protection, safety assist) as well as in the overall assessment to gain a five star award. The process in use up to now had been applied since 1997 and only tested the frontal crash, the side crash and pedestrian protection. In the new assessment procedure, electronic safety and assistant systems which help to prevent accidents and avoid serious injury are also included in the evaluation.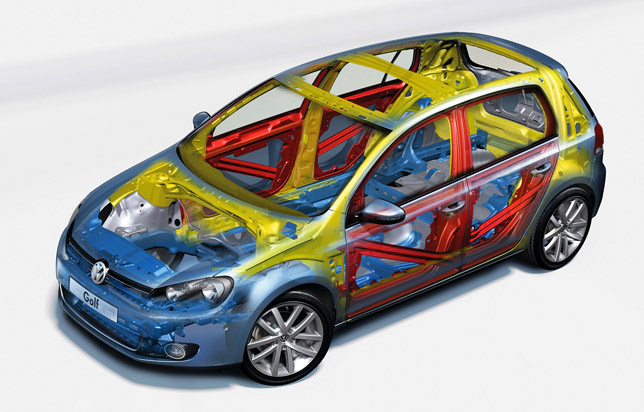 In addition, a rear crash test which will provide information on the load on the cervical spine is part of the new evaluation scheme. Volkswagen has responded to this kind of injury to the spine in the new Golf with "Whiplash-optimised head restraints" (WOKS). In comparison, the protective potential of WOKS was clearly better in the corresponding tests than the bio-mechanical figures of numerous active systems.
The new EuroNCAP rating has further advantages for the consumer: using the new overview evaluation, customers can quickly determine the overall safety rating of a vehicle and also make easy comparisons.