Toyota Crown Received a Well-Deserved Facelift!

Toyota Crown model has underwent considerable change in style just to get that that fresh air that it desperately needed recently. In fact, since its debut in mid 1950's, the vehicle has been one of the most popular models in the Japanese market. And despite its consistent attitude, this machine has managed to keep its positive sides always on high level.  And now the Athlete and Royal series will receive numerous changes and improvements just like the Majesta lineup. So, let's see what is going on here.
Crown Athlete
This sweetie has its front grille, along with its whole expression refreshed, as the grille's outline extends to the bottom of the front bumper. Furthermore, the bumper is further extended and now contributes to that sweet low and wide stance. And in addition to the Bi-Beam LED headlights, the Athlete features and surface-emitting LED clearance lamps with daytime running function.
SEE ALSO: Christmas Gifts for Toyota RAV4 are Already Planned!
On the other hand, the interior uses agate laminate decorative paneling that expresses clarity and depth like it is a kind of a masterpiece. How cool is that?
Crown Royal
This sweetie comes with a front bumper and grille that together create a strong sense of depth and make the front of the vehicle looking incredibly beautiful and sophisticated. In fact, the grille has been further lowered and contributes to a really low level of gravity.

And the interior comes with lattice patterned panes with special wood-grain finish. Furthermore, it combines fresh new colors with brown details that together bring a sense of luxury and sophistication.
Fresh powerplant system
A 2.0-liter direct-injection turbo unit  is included. It is a special engine that delivers incredible acceleration and overall performance. It is a twin-scroll turbocharger with integrated water-cooled exhaust manifold. This solution results on maximum torque levels and responsive and smooth acceleration via Toyota's 8 Super ECT and Driving Response and Acceleration Management System.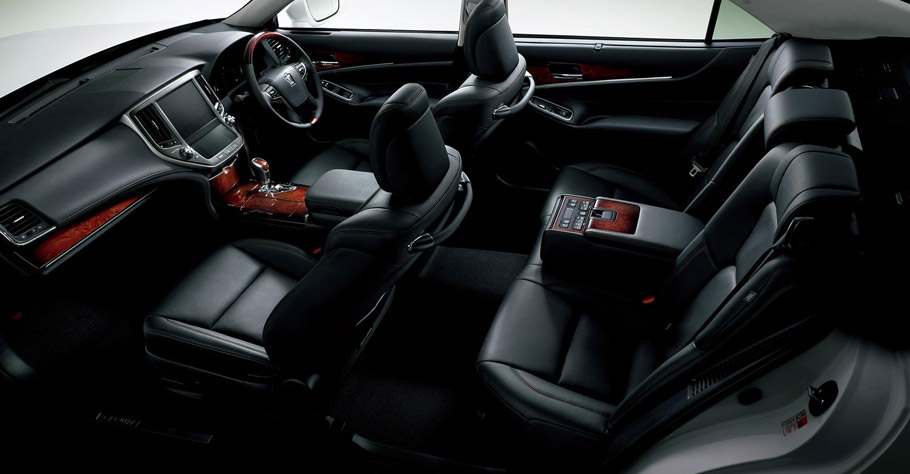 And along with the bold design and sweet drivetrain system, both vehicle come and with numerous more safety and utility systems. Just like ITS Connect System, Right-turn Collision Caution, Red Light Caution , Signal Change Advisory, Communicating Radar Cruise Control, Emergency Vehicle Notification.
Source: Toyota