2013 Toyota EV P002 Race Car Ready For Pikes Peak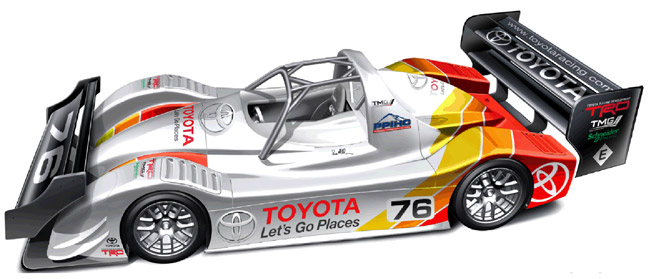 Toyota sets a goal to improve on last year's record-breaking electric race car, which will tackle next month's Pikes Peak International Hill Climb. 2013 Toyota EV P002 Race Car will be more powerful than its predecessor delivering combined maximum power of 544 hp (400kW).
The peak torque from the advanced electric motors now is 1200 Nm (885 lb-ft) and it is delivered through a single-gear transmission. In addition, the engineers have sharpened the aerodynamics of the radical-based chassis of this race car.
What is more, this fully electric drivetrain maintains full power even in the thin mountain air.
The Pikes Peak climb begins at an altitude of 2,862 metres and finishes at 4,300 metres - all of which is now fully paved.
Toyota utilized off-board battery-to-battery charging technology, including a Schneider Electric EVlink™ DC Charger, to charge the EV P002 from the mountainside, where there is no reliable connection to the power grid.
Mounted in the rear of a Toyota HiAce, the TMG DC Quick Charger includes a 42 kWh lithium-ion battery, which can be charged directly from the AC power grid. The TMG DC Quick Charger is an independent source of power for rapid recharging in any location, which makes it the perfect solution for electric motorsport.
The vehicle will be driven this year by New Zealander Rod Millen, who has set multiple records at Pikes Peak and has competed regularly in Toyota machinery.
Toyota EV P002 Technical Specifications
Performance
Top speed
230km/h
Maximum torque
1200Nm
Maximum power
400kW
Maximum revs
6000rpm
Powertrain
Electric motor
2 axial flux
Inverter
2 x TMG inverters
Gear ratio
2.5
Transmission
Single-reduction gearing
Battery
Lithium ceramic
Battery capacity
42kWh
Charging technology
Off-board DC charging
Dimensions
Length
4.10m
Height
1.04m
Width
1.79m
TMG DC Quick Charger specifications
AC grid connection / input
Grid connection
400 V AC CEE 16 A
Nominal input power
6.6kW
DC vehicle connection
Output voltage
400 V DC
Maximum DC output power
25kW
Storage
Battery
42kWh, lithium ion
General
Technology p art ner
Schneider Electric (EVlink™)
Operating temperature
0 to 40°C
Storage temperature
-30 to 60°C
Protection
Short-circuit protection, output fuse, over-current and over-voltage protection, under-voltage shutdown
Source: Toyota