Toyota FT-1 Vision GT is a Race Concept for Gran Turismo 6 [VIDEO]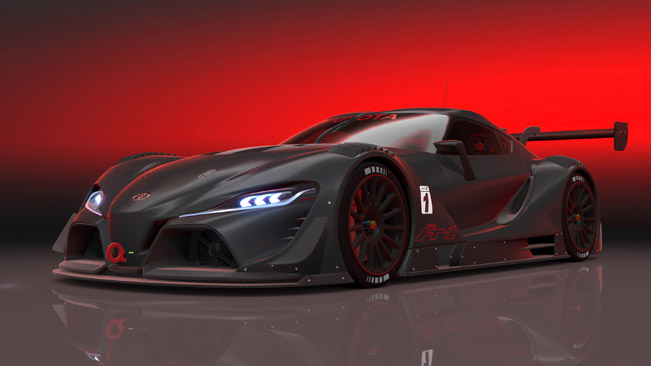 Toyota FT-1 Vision GT is a high performance race concept designed by Calty and entirely virtual. It comes to celebrate the 15th anniversary of the Gran Turismo series and is now available to download within Sony PlayStation3's Gran Turismo 6 (GT6) real driving simulator. It is obvious that the car is based on the Toyota's stunning FT-1 sports car concept.
The Japanese company has revealed so far two physical interpretations of FT-1 concept. One has a red exterior color and the other – graphite – to showcase the vehicle's versatility and striking styling. Both versions are currently available to download on the game, with the red one introduced in earlier this year, and the graphite one - available now.
The original red FT-1 concept ignited enthusiasts with its January debut at the North American International Auto Show and its bold red exterior color scheme. This second version impresses with sophisticated graphite and light-coloured leather interior accents. It was on display for the first time at the Gordon McCall's Motorworks Revival gala held on California's Monterey Peninsula.
The creatives behind this project work at Calty Design Research - Toyota's North American design studio in Newport Beach, California. They have made the FT-1 to stun the world with bold, sculpted lines that immediately speak of speed and power.
Calty designed an ultra high-performance race version of the FT-1 which inside the GT6 is dubbed the FT-1 Vision GT. This high-powered version interprets what a full-race FT-1 might achieve on the track.
Video Source: YouTube
Source: Toyota