Toyota Goes Genuinely Hands-Free
Toyota drivers can enjoy safer mobile phone communication on the road with the new Toyota Genuine BluetoothTM* hands-free kit. Toyota's new hands-free kit connects wirelessly to BluetoothTM-enabled mobile phones so drivers can have phone conversations conveniently and without breaking the road rules.
Across Australia, police actively target illegal mobile phone use with penalties of fines and demerit points for offenders.
It should be noted that it is illegal for Learner and Provisional 1 drivers in Victoria, New South Wales, Queensland and the Northern Territory to use mobile phones while driving - even via hands-free or loud speaker.
According to state and territory road and transport authorities, hand-held phone usage while driving can lead to slower reaction times and lack of awareness of incidents on the road, poor steering, and slower and erratic driving.
The Toyota Genuine hands-free kit with easy-to-use and logical communication functions helps to minimise driver distraction while initiating and answering calls.
It is of course still important that drivers focus on the road while driving their vehicles.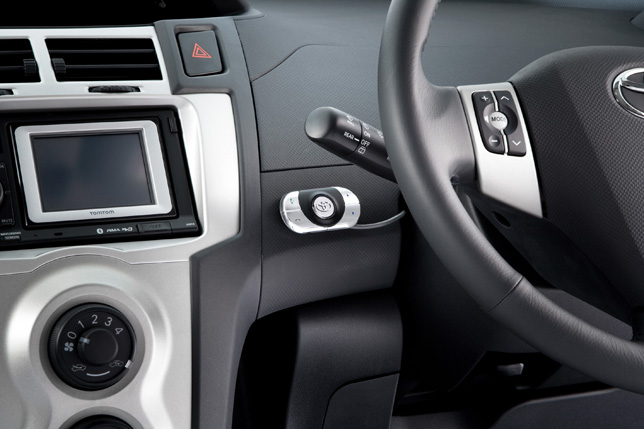 Large, simple buttons are identified by icons similar to those on a mobile phone, and the keypad is softly backlit for use in the dark.
The central button activates voice recognition, so drivers' hands can stay on the steering wheel and their eyes on the road.
As the driver enters or exits the vehicle, conversation is seamlessly transferred between the mobile phone and in-car hands-free BluetoothTM.
Measuring 3.2cm by 6.3cm, the kit is a discrete addition to the vehicle interior and can be mounted in a variety of places within convenient reach of the driver.
Integration with the vehicle audio system guarantees high sound quality, with music and radio automatically muted during calls.
The Toyota Genuine BluetoothTM hands-free kit is available on Camry, Aurion, HiLux, RAV4, Yaris and new Corolla.
* The Bluetooth word mark is owned by Bluetooth SIG, Inc. BluetoothTM will only operate with telephones enabled with compatible BluetoothTM wireless technology [HFP (Hands Free Profile) v0.96, v1.0, v1.5].