2015 Toyota Harrier Gets Redesigned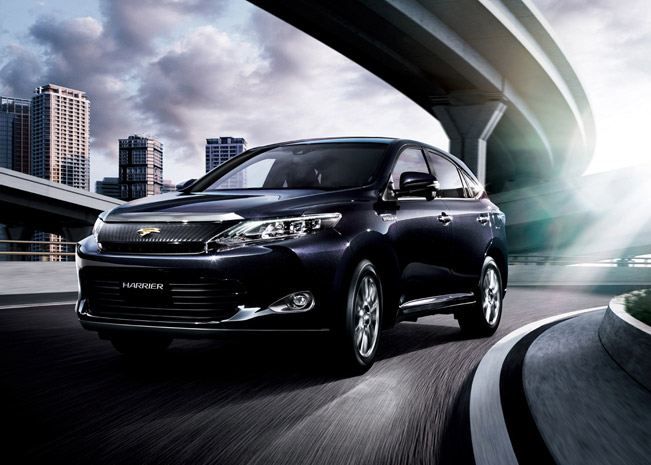 The redesigned 2015 Toyota Harrier crossover SUV will be launched in Japan on 2nd of December. A hybrid model of the version is scheduled for release on 15th January 2014. The new model will include distinctive design and innovative features, quiet cabin, enhanced suspension and aerodynamic performance.
It will offer its customers elegant and streamlined exterior and an interior that features innovative styling and expresses distinctiveness. In addition, the hybrid model will be powered by a 2.5-liter engine and hybrid system, thanks to which it will achieve fuel efficiency of 21.8 km/L2.
The facelifted 2015 Toyota Harrier has a new long front and short rear overhangs that lend additional dynamism to the side profile, while horizontally accented styling and forward-leaning quarter pillars give a sleek, speedy look. There is also a dramatic curve on the front bumpers which goes towards the rear and creates a powerful, compact front end.
For the lights, Toyota has used LED lamps, which have been made standard in all grades. As an option there is also available are clearance lamps and boldly shaped rear combination lamps with gradient brightness.
Going inside the car, one can see a premium and contemporary interior that includes padded surfaces with accented stitching and wood grain ornamentation. At the center there is a cluster with touch-sensitive electrostatic switches that combines with an arch-roofed instrument panel to create a spacious and sporty interior.
A lot of attention has been paid to the details. Such instances are the door handle with a softly-curving form that flows from the instrument panel, front door trim ornamented with an embossed Harrier seal, console pockets that make optimum use of the space alongside the center console, and the harmonized shape of the door speakers and dashboard instruments.
The vehicle will be offered with the choice of seven exterior colors. A very impressive distinctive dark shades is the new Sparkling Black Pearl Crystal Shine paint. On the other hand, the interior will be made available in three colors, including a Deep Bordeaux one.
The cabin of the 2016 Toyota Harrier will offer its occupants quietness made possible through the utilization of sound-absorbing and sound-blocking materials. Moreover, the 2015 Toyota Harrier's suspension is improved through the use of Frequency Adaptive Damping (FAD) shock absorbers which control the degree of vehicle roll and pitch, automatically adjusting shock absorber damping characteristics to compensate for vehicle posture changes.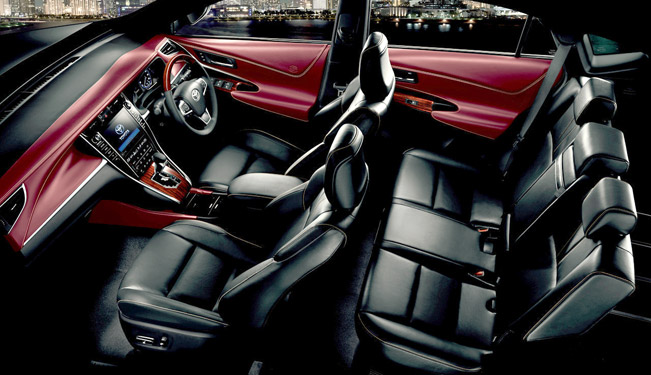 Furthermore, the electric power steering, handling stability and riding comfort are enhanced via the new Harrier's more compact body, utilization of high-tensile steel plates, and improved methods for joining body parts.
There are being offered gasoline engine models which feature Dynamic Torque Control 4WD for automatic control of front-wheel and 4-wheel drive conditions. On the other hand, the integrated operation with S-VSC (Steering-assisted Vehicle Stability Control) delivers excellent stability on both slippery and dry surfaces.
There is also available the E-Four system in hybrid models, which controls front and rear wheel slippage, ensuring traction performance on slippery surfaces. Additionally, this system also optimizes torque distribution to the front and rear wheels in response to driving conditions.
2015 Toyota Harrier has shortened exterior proportions. However, it still provides a roomy interior with an extra 47 mm of legroom. What is more, some of Toyota's most advanced features are available on the redesigned vehicle.
These include a Panoramic View Monitor, Lane Departure Alert (LDA) system, Pre-collision System (with millimeter-wave radar), Intelligent Clearance Sonar detects obstacles when starting off, and Drive-start Control.
The Hybrid models will be powered as mentioned by the 2.5-liter 2AR-FXE engine and hybrid system. Together they achieve significantly enhanced fuel economy of 21.8 km/L2 and CO2 emissions of 106 gCO2/km.
Next, the gasoline engine models are equipped with a 2.0-liter Valvematic engine and newly developed continuously variable transmission. Two-wheel drive models also include Toyota Stop & Start System. The later achieves improved fuel efficiency of 16.0 km/L and CO2 emissions of 145 gCO2/km.
2015 Toyota Harrier Crossover SUV Specifications (Hybrid variant):
Engine
Displacement
2,493 cc
Maximum output
112 kW [152 PS] / 5,700 rpm
Maximum torque
206 N-m [21.0 kgf-m] / 4,400-4,800 rpm
Motor
Front
Maximum output
105 kW [143 PS]
Maximum torque
270 N-m [27.5 kgf-m]
Rear
Maximum output
50 kW [68 PS]
Maximum torque
139 N-m [14.2 kgf-m]
Complete system
Maximum output
145 kW [197 PS]
Source: Toyota