Toyota Introduces Innovative Urban Utility Concept [VIDEO]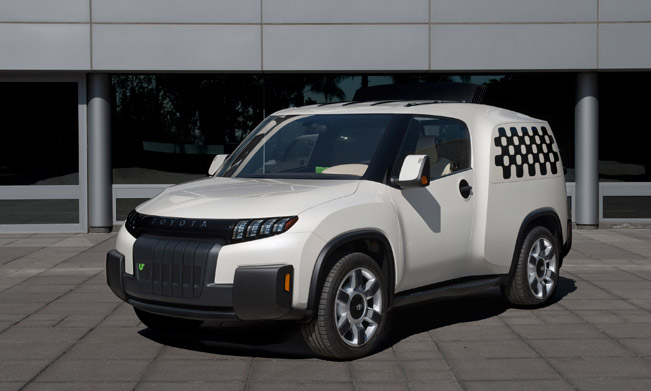 Toyota U-squared Urban Utility Concept vehicle was developed by Toyota's Calty Design Research in Newport Beach, California. The concept car will make a first public presence at World Maker Faire in New York City on 20th and 21st of September. This revolutionary vehicle includes a new open architecture and is built with innovative materials that redefine urban utility. For instance the designers have included the ability to roll back the roof, fold down the tailgate into a ramp and customize the interior on a versatile rail system.
The model was inspired by a growing innovative spirit in urban areas. Just take as an example the vehicle elements, which showcase the lifestyle and needs of an entrepreneurial city driver. Both exterior and interior are made in such way that they are intended for urban utilization.
Car's exterior dimensions can perfectly handle bumper-to-bumper traffic, potholes and tight corners. Furthermore, this Toyota U2 concept has an extremely durable underbody and tool-like exterior. In addition, the side panels are completely customizable.
There are other distinctive design highlights such as the circular door handles and a slightly chunky proportion. The rear has a box-like design, which of course hints towards vehicle's storage capabilities.
Other exclusive features regarding the exterior that needs to be mentioned are the roof panels that retract open, the rear glass that can slide into the tailgate, the tailgate that folds down into a ramp and the protective and replaceable ridges on tailgate.
Inside, the concept is as customizable as the outside. At the center of the design philosophy stood the outdoor activities, which involve gear and equipment. As a result, this made the Toyota U2 concept a flexible, functional gadget that owners can model according to their needs.
For instance, the retractable utility bar can be used as a holding a desk or grocery bag hooks. The side windows flip up for easy access from roadside. Other key interior highlights include a versatile utility rail system configurable which can hold everything from baskets to bike stands and the ability to fold and remove the front passenger seat. Toyota also created a fold-up rear seating, unique shifter design with intuitive switch for parking, drive and reverse mode.
Toyota U-squared Urban Utility Concept vehicle has the size of a compact car. However, it also incorporates the functionality of a compact truck and the spaciousness of a cargo van. It also delivers good fuel economy, maneuverability in city environments as well as easy loading and unloading.
Video Source: YouTube Source: Toyota