Toyota Introduces Next-Gen Integrated Safety Technology [VIDEO]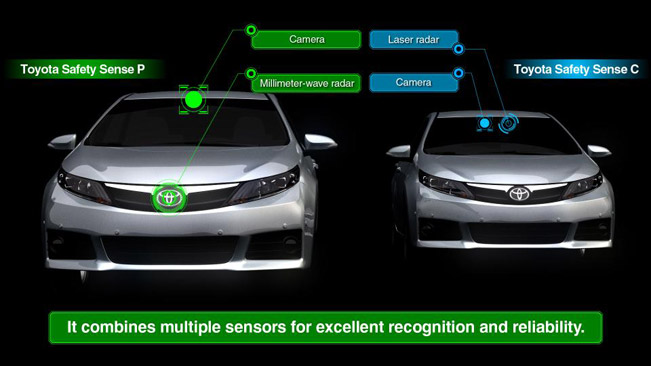 Toyota's next-generation Integrated Safety Technology was revealed today. It comprises of a lot of smart new technologies and systems which aim to deliver safety driving and are planned to be applied in company's future vehicles. These include vehicle-to-infrastructure and communications for safer manoeuvres, hazard alerts and smarter as well as more efficient cruise control driving; and new adaptive LED headlight arrays for better night-time illumination. These technologies together with advanced active safety packages are scheduled to be officially rolled out from 2015 for new models.
All of these new features were just announced at a safety seminar in Toyota City. The company is also creating Safety Sense active safety packages, which are tailored to suit different size vehicles prepared to be introduced by the end of 2017.
Vehicle-infrastructure and vehicle-vehicle communications use wireless frequency reserved for Integrated Traffic System (ITS) services. The instance here is simple: when one arrives at junction with no clear view, sensors above the road detect on-coming traffic or pedestrians and send the information to the car (vehicle-to-infrastructure system).
In addition, those vehicles approaching the intersection will signal that they are there with the vehicle-to-vehicle link, thus activating visual and audio warnings. Communicating Radar Cruise Control is the next technology developed by Toyota that utilizes vehicle-to-vehicle communication.
This one makes it easier for preceding and following vehicles to keep a safe distance apart. How it works? It has forward-facing millimetre-wave radar which monitors the distance between the vehicle and this ahead, their approximate speed and the acceleration/deceleration of the car in front.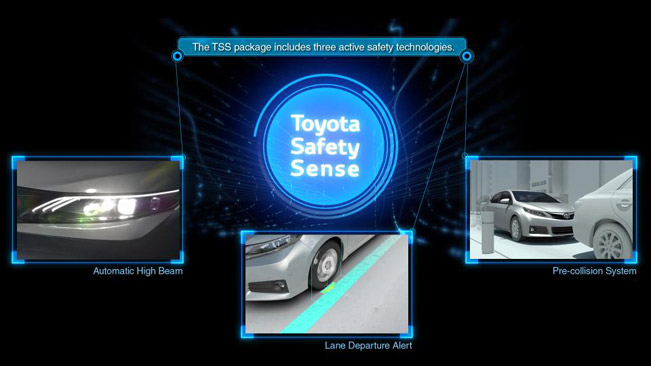 LED Array Adaptive High Beam comes offering better night-time illumination. The system utilizes multiple, independently controlled LEDs arranged in a single row. The effect: a wider illumination without dazzling drivers of on-coming or preceding vehicles. In addition, it can light up the gaps between cars ahead and those approaching. This next-gen technology will be featured in Toyota's Safety Sense active safety package.
Starting from next year, the Japanese company will launch a new set of active safety technologies. They were designed to help prevent or mitigate collisions, and will be offered in two Toyota Safety Sense packages: C and P for mid-size and larger vehicles respectively.
More importantly, they will bring together several active safety technologies, including the Pre-Crash Safety system, Lane Keep Assist and automatic high beam. Precisely, the C package utilizes laser radar, while the P package a millimetre-wave radar, each of which is combined with a camera.
At last, there is a separate active safety package called Lexus Safety System+. It will include the new Road Sign Assist function, which recognizes speed limits and road signs when traveling overseas, presenting the information on the driver's instrument display.
Video Source: Vimeo
Source: Toyota