Toyota Me.We Concept – Four Cars In One [VIDEO]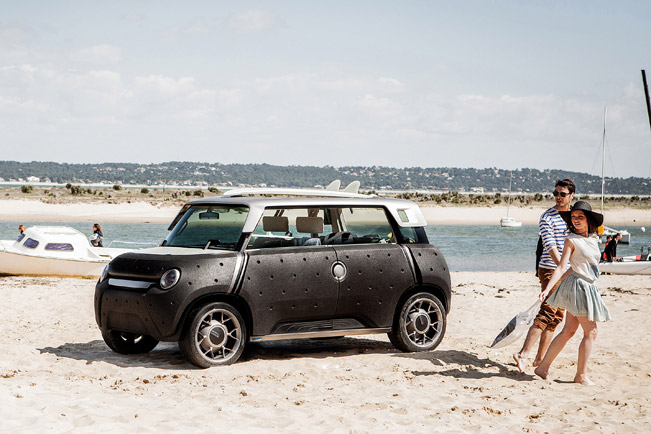 Toyota ME.WE Concept Vehicle does not get under any classification pr class of vehicles. It is at the same time a small city car, off-roader, ute and convertible, which makes it perfectly adaptable to a wide variety of lifestyles.
The five-seat electric car is a result of the joint venture between Toyota and the industrial designer Jean-Marie Massaud. As a matter of fact, the car's name reflects a simultaneous concern for individual freedom (ME) and responsibility towards society (WE).
This concept is created with the aim of "intelligent reduction": it accommodates the automotive needs of people by eliminating excess in a package thus combining pure driving pleasure with environmental responsibility.
To go further into details, the ME.WE utilizes lightweight, robust and recyclable materials - a tubular aluminium structure, body panels made from expanded polypropylene, and bamboo for the floor and dashboard.
Furthermore, the interior of the car is entirely orientated towards the passengers, while the luggage can be carried on the roof and protected by a neoprene cover. Additionally, the rear luggage space can also be extended.
The instruments included in this vehicle are restricted to only one screen above the steering wheel. On it the driver can receive information about vehicle speed, battery charge, trip information and navigation instructions delivered by a smart phone, which is mounted below the screen.
Simple design is matched by ease of use: it has an electric motor in each wheel like the recently unveiled Toyota i-ROAD and its batteries are located under the floor, as with the Toyota iQ electric car.
Toyota will exhibit the inherent innovation of the ME.WE by unveiling the concept car in its Paris showroom - Le Rendez-vous Toyota on the famous Avenue des Champs-Élysées. The vehicle will be on display until 12th of June. Sadly, the Japanese brand states that there are no future plans for the ME.WE to enter production.
Toyota Me.We Concept - Technical Specifications
DIMENSIONS
Length (mm) 3,440
Width (mm) 1,750
Height (mm) 1,600
CHASSIS & BODY
Chassis construction Tubular aluminium
Body shell Polyproylene panels
Kerb weight (kg) 750
ENGINE & TRANSMISSION
Power 4 x in-wheel electric motor
Battery location Underfloor
VENTILATION
Heating/air conditioning
Low-consumption heat pump
Electric seat heating
Video Source: YouTube
Source: Toyota