Toyota Mirai Achieves Maximum Power Well Above 100kW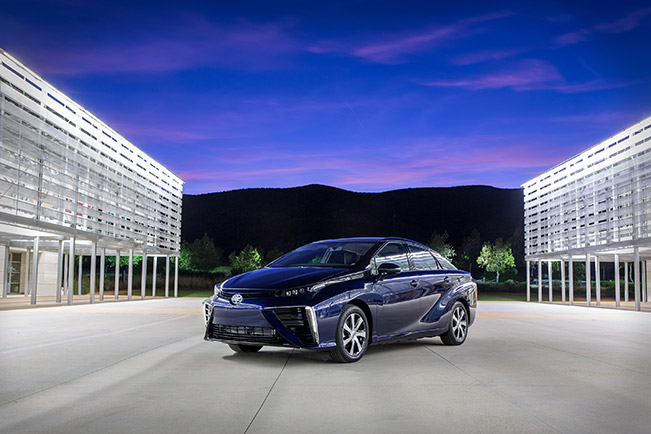 Only couple of days ago Toyota announced its ground-breaking Toyota Mirai Fuel Cell Car without giving too much information about it. Now we already have the specific characteristics of the car so you will know what to expect out of it.
First of all, Toyota Mirai indicates the beginning of a new era of vehicles. Since it is all about better future in a clean world and environment, the car uses hydrogen to produce electric power which results in delivering better environmental performance. Still though the convenience and the ultimate driving pleasure are not sacrificed. Drivers still receive the best possible efficiency and quality.
The new Toyota uses the Toyota Fuel Cell System (TFCS) that combines fuel cell and hybrid technologies. It includes Toyota's new proprietary fuel cell stack and high-pressure hydrogen tanks. The TFCS is more energy efficient than internal combustion engines and emits no CO2 or pollutants.
Moreover, the hydrogen-powered sedan's stack has a maximum power output of 153 bhp (114kW) and a maximum torque of 335 Nm (247 ft-lbf). The 3D fine mesh flow channels enhance the efficiency of the car's electricity generation and ensure uniform generation on the cell surfaces. As a result, this provides the FC stack with compact dimensions, excellent performance and a world-leading power output density estimated at 3.1kW/L. The electric motor is driven by Nickel-metal hydride battery.
The exterior of the Toyota Mirai emphasis on its individuality and sophistication. Even the headlights present high-tech luxury. They gain ultra-thin profile and an in-line arrangement of four LED lights, along with visible heat sinks and other optical components. The trapezoidal shape of the rear profile extends from the license plate surround and continues to the bottom corners of the bumper and out towards the 17-inch aluminium wheels.
Inside the car encompasses a full capacity of balanced style and quietness. The sound absorbing systems and noise-reducing glass for the windscreen and door windows add to the electric motor which works with impressive quietness. The front seats use an integrated cover/seat foaming process to ensure better body fit and hold. Furthermore, the central meter cluster placed on the top of the instrument panel has a speedometer and a multi-information display presented on a high-definition 4.2-inch liquid crystal TFT screen. Customers can choose from three different interior colors, including Warm White.
Source: Toyota