Toyota NS4 Advanced Plug-in Hybrid Concept
Toyota has revealed the NS4 advanced plug-in hybrid concept at the 2012 North American International Auto Show (NAIAS) in Detroit. The new vehicle exemplifies Toyota's vision for future mobility, with a focus on next generation connectivity and safety.
"In this digital age, cars are becoming another spoke in the wheel of our electronic connectivity. NS4 demonstrates Toyota's take on the human connection to the car with technology that considers both emotional and rational relationships, person-to-car and car-to-society.", commented Jim Lentz, president and chief executive officer of Toyota Motor Sales US (Inc.).
The NS4 boasts advanced in-car connectivity, next evolution of Toyota safety systems and Glass Technology.
The NS4 concept's human-machine interface (HMI) is centred around a multi-touch screen with the look and feel of a smartphone. The simple, intuitive operation conveys information quickly while minimizing distractions and maximizing driver awareness. The multimedia and vehicle-controls enhancement will also direct air conditioning, audio, battery-charge and navigation functions. The HMI system is even capable of "learning" driver preferences to anticipate driver responses in specific environments and situations.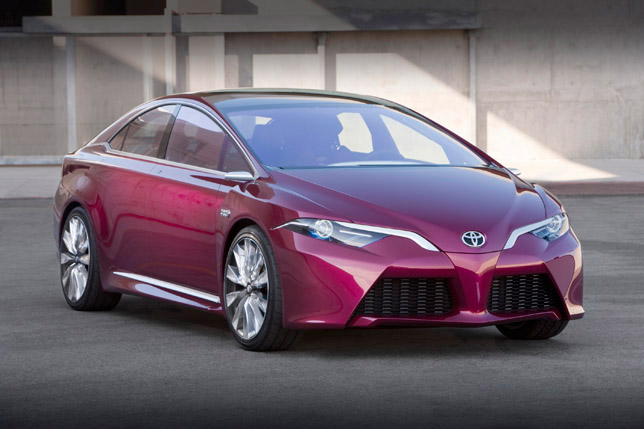 The NS4 features Toyota's latest safety system developments, including next generation pre-collision system (PCS), adaptive driving beam (ADB) headlights, and blind spot monitor (BSM). PCS features lane departure and pedestrian collision avoidance technologies designed to predict collisions under certain circumstances and help avoid them. Adaptive Driving Beam (ADB) headlights help to prevent vision-impairing glare to oncoming drivers and pedestrians. Using sub-millimeter wave radar, the Blind Spot Monitor (BSM) detects a vehicle in the adjacent lane and visually alerts the driver using visual indicators placed in the upper dash.
Four new glass technologies are integrated into the windscreen, front and rear windows to improve driver visibility, fuel economy and electric driving mode mileage efficiency:
•    Rain-resistant 'hydrophobic' coating - Fluorine coated glass causes rain drops to form intosemispherical shapes for improved visibility and rain drop elimination. •    'Anti-fog' coating - High performance resin material with anti-fogging characteristics and increased durability. •    High ultraviolet (UV) absorbing inner-layer - Removes 99 percent of harmful UVA and UVB rays •    Anti-solar film with radio-wave transparency - Reduces the internal vehicle temperature and improves electronic device functionality
Source: Toyota