Toyota RAV4 Comes Enhanced For 2014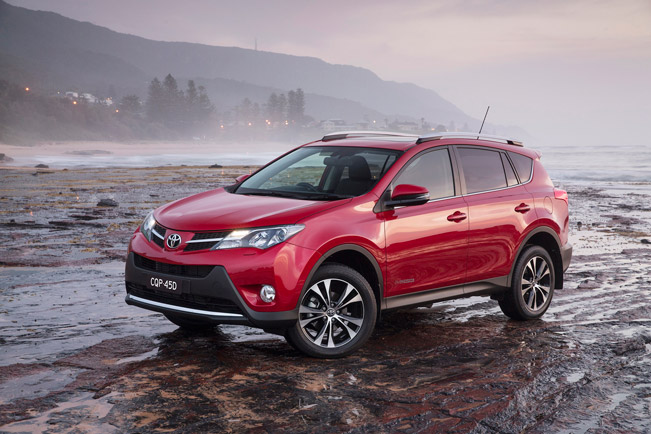 2014 Toyota RAV4 now gets further enhanced. It adopts a wide variety of technology features such as Reverse Cross Traffic Alert and Lane Departure Alert in order to add more safety and convenience. What is more, the two mentioned technologies come as a standard.
Furthermore, RAV4 is also fitted with a reversing camera on all models, as well as multimedia audio units operated through a 6.1-inch display screen and switches on the steering-wheel hub. To go to the absolutely new features the mid-sized SUV gets 11-speaker JBL sound system with DAB+ digital radio, Automatic High Beam and Back Guide Monitor.
The range-topping variants of RAV4 runs as a standard on 18-inch machined alloys wheels with black highlights fitted with wider and lower-profile 235/55 Dunlop tyres. To go further into details, this Toyota model is offered with three four-cylinder engines.
The two-wheel drive variants are equipped with 145 hp (107 kW) 2.0-litre petrol engine, while the all-wheel drive versions can be specified with a 2.2-litre turbo-diesel engine that generates 340 Nm (250 lb-ft) of torque, or a 2.5-litre petrol that develops 180 hp(132 kW).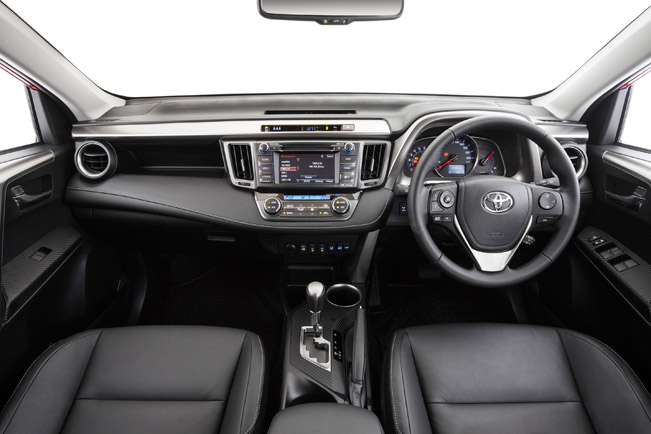 2WD RAV4's engine is coupled with a six-speed manual gearbox or Toyota's Multidrive S seven-speed automatic transmission. Petrol AWD variants are fitted with a six-speed multi-mode sequential-shift automatic, while diesel AWD RAV4 comes with the choice of the six-speed manual or automatic gearboxes.
Dynamic Torque Control AWD is an advanced AWD technology which is featured here. It utilizes data from various sensors and continuously controls the torque transfer between the front and rear wheels via an electromagnetically controlled coupling positioned in front of the rear differential.
Next, the Reverse Cross Traffic Alert (RCTA) is designed to provide additional safety and convenience when backing out of a car space. Precisely, it warns the driver of approaching vehicles, when the reversing vehicle is travelling at less than 8km/h and vehicles are approaching from the left or right at between 8 and 28km/h.
Lane Departure Alert (LDA) detects the vehicle when it is about to go astray from the traffic lane, while the Automatic High Beam (AHB) detects the lack of light from surrounding street lamps or from other vehicles at night and automatically switches the headlamps to high beam.
Source: Toyota