Toyota Shocks Sema with 850-horsepower Camry Dragster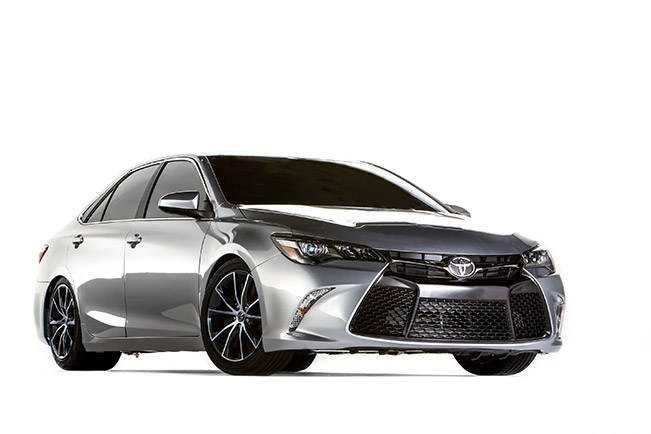 2015 Toyota Sleeper Camry managed to shock onlookers at this year's Specialty Equipment Market Association (SEMA) Show. Loud roars and extensive enthusiasm abounded around the Toyota booth after the reveal of the all-new Sleeper Camry. The word "sleeper" presented in drag racing terms identifies a car which has the look of an innocent kitten but acts like a lion. In other words, it is a vehicle that can blow your mind and leave you speechless.
At first sight, the mild-mannered seemingly stock sedan looks like it has nothing special than some custom-made wheels and ordinary smoky shade. BUT! Reality is different. The 2015 Toyota Sleeper Camry does indeed give grounds for the presence of the word "sleeper" in its name. The car flips open, and uncovers a tube-frame chassis. Just like some of those autobots that you can see in Transformers. Almost.
The underneath part of the elegant Camry skin is all about intimidating force, strong durability and rough speed. The purpose-built dragster features a 5.7-liter 3UR-FE V8 engine sourced from the Toyota Tundra boosted by a TRD supercharger. It also includes a wet nitrous system that strikes with more than 850 HP. The crazed Sleeper Camry is equipped with brutal DOT 335/30/18 drag racing tires which are expected to help propel this Toyota to a dazzling 9.80-second quarter mile.
2015 Toyota Sleeper Camry features:
Magnuson Products
IPT Performance Transmissions
Plumbing: Goodridge Fluid Transfer Systems
TRD
Magnaflow
Autometer Digital Dash
Impact Racing safety harness
Battery: Optima Yellow Top
Goodyear tires
Nitrous Supply
Seat: Fast Ed's Interiors
The Polishing Shop
Forged pistons and connecting rods
Suspension: Strut front and 4-link live rear axle
Source: Toyota