Toyota TS030 Hybrid at the Le Mans
Toyota TS030 Hybrid is the model with which the Japanese automaker will return to the Le Mans 24-hour race the forthcoming week. On the race track we will see not one but two of these competing hybrids.
Toyota aims with these hybrid vehicles to write a new page in the history of the legendary twice-around-the-clock enduro, with the help with their unique technologies. Both TS030 Hybrids display their new Toyota hybrid-blue livery.
Furthermore, both racecars are equipped with the 2012 THS-R (Toyota Hybrid System - Racing) powertrain. The latter is designed to deliver optimum performance and includes theall-new V8 3.4-litre normally-aspirated petrol engine and hybrid system with capacitor storage.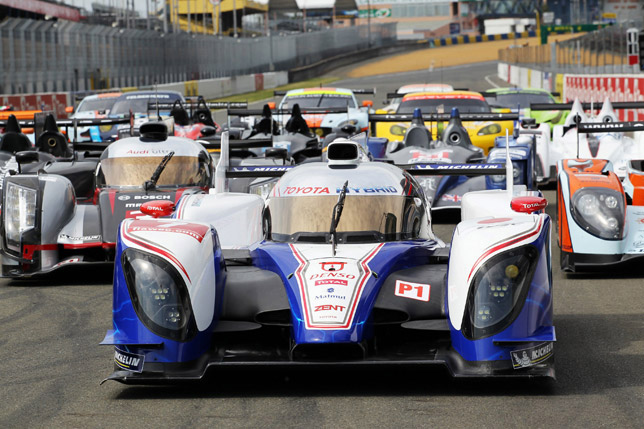 Of course, being a true Toyota's full hybrid road car, the TS030's energy is regenerated under braking and the vehicle can work in electric-only mode, thus achieving zero emissions and zero fuel consumption.
This means that it either delivers faster lap times through improving speed on the exit of corners, or one chooses to save fuel by using the internal combustion engine less on corner exit and allowing the hybrid system to compensate.
Few days more to go and we will eventually understand whether the goal of Toyota is achievable, and it is to show that the TS030 Hybrid is the fastest hybrid car on the grid.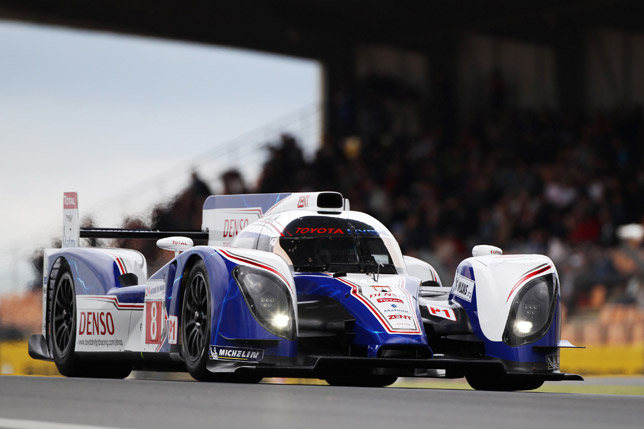 Technical Specifications
Designation
TS030 HYBRID
Type
Le Mans Prototype (LMP1)
Bodywork
Carbon fibre composite
Windscreen
Polycarbonate
Gearbox
Transversal with 6 gears sequential
Gearbox casing
Aluminium
Driveshafts
Constant velocity tripod plunge-joint driveshafts
Clutch
Multidisc
Differential
Viscous mechanical locking differential
Suspension
Independent front and rear double wishbone, pushrod-system
Springs
Torsion bars
Anti roll bars
Front and rear
Steering
Hydraulically assisted
Brakes
Dual circuit hydraulic braking system, mono-block light-alloy brake callipers front and rear
Discs
Ventilated front and rear in carbon
Rims
Magnesium forged wheels
Front rims
14.5 x 18 inch
Rear rims
14.5 x 18 inch
Tyres
Michelin radial
Front tyres
36/71-18
Rear tyres
37/71-18
Length
4650mm
Width
2000mm
Height
1030mm
Fuel capacity
73 litres
Powertrain
Toyota Hybrid System - Racing (THS-R)
Engine
90° V8 normally aspirated engine
Fuel
Petrol
Engine Capacity
3.4l
Valves
4
Air restrictors
1 x 43.3mm
Capacitor
Nisshinbo
Front Hybrid Motor
Aisin AW
Rear Hybrid Motor
Denso
Source: Toyota