Trans Am Series Debut for 2014 Dodge Challenger SRT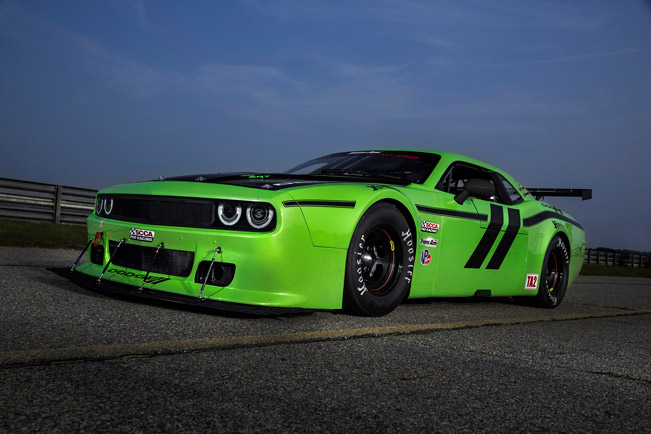 2014 Dodge Challenger SRT made a Trans Am Series premiere this weekend. Miller Racing team drove two Dodge Challenger SRTs at the Mid-Ohio Sports Car Course. The four-time series champion Tommy Kendall drove the No. 11 Dodge Challenger SRT, while his teammate and TA2 points leader Cameron Lawrence drove the No. 1 Challenger. Miller Racing gave the team a more-robust support base. In fact, Kendall won four championships in the 1990s and he last competed in the Trans Am Series in 2004.
The driver is best known for winning championships in Trans Am and IMSA. He is also popular with his victory in the 1995 Rolex 24 At Daytona as well as a television analyst for Fox Sports 1 and NBC Sports. Another interesting fact here is that Kendall has the third most Trans Am victories with 28. On the other hand, his teammate – Lawrence, has captured 14 wins in 21 series starts since 2012.
Miller Racing has switched the manufacturers to Dodge but this won't keep of Lawrence from retaining his TA2 class points. The 21-year-old driver currently holds a 35-point margin over second place. The driver expressed his wish to continue the success he had and to stay on top and keep the season rolling.
The Miller Racing team was "born" in 2012. During the 2013 Trans Am Lawrence won eight of 10 events in the TA2 class, including the last seven-consecutive races. The team has captured 18 Trans Am victories in 26 races over three seasons.
Next to the newly formed partnership with Miller Racing, SRT Motorsports also fields two Dodge Viper SRT GTS-Rs in the IMSA TUDOR United SportsCar Championship, and supports a customer racing program with the Dodge Viper SRT GT3-R in the IMSA TUDOR series, Pirelli World Challenge and Supercar Challenge.
Source: Dodge