IND BMW E92 M3 and F10 M5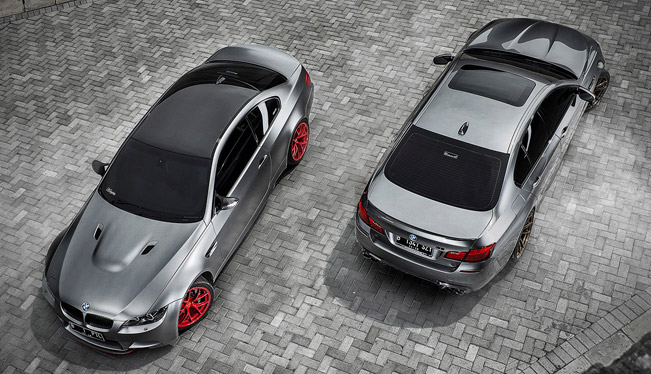 The specialists from IND have transformed recently not one but two BMW models, and probably inspired by the book "50 Shades Of Grey" have made them in distinctive and outstanding exterior color.
The first model that needed to be changed was the E92 M3 one and although the owner wished initially only for some small improvements, the car eventually ended up with new grey-silverfish exterior color and unique combination of wheels.
Here the M3, was equipped with the Lamborghini Rosso Vik BBS FI wheels and ESS Supercharger manifold, which made the perfect contrast with the new skin of the E92. Inspired by the great results they have achieved, the IND professionals continued the same tuning philosophy on the BMW F10 M5.
Despite that this one took more introverted approach, they have given it unique modified appearance. Here the combination is achieved with Eisenmann exhaust and 3D Design aero parts, and custom painted HRE wheels are the center piece of the car.
Firstly, HRE's matte bronze finish was chosen as a base; then was applied a real gold leaf insert inside the HRE logo found in the spoke of each wheel, along with the HRE center cap. The last step was to utilize the custom clear coat to allow the original matte bronze finish to truly shine.
Source: IND