Venom GT Price - $950 000
Venom GT will hit the US market, but you'd better hurry up, because Hennessey is planning to produce just five units annually. The car is exhibited at the McCall Motorworks Revival.
"We are very excited to have the opportunity to show the Venom GT to our friends and fellow enthusiasts at what has become one of the biggest and best car enthusiast events in the world," says CEO, Don Goldman.
"Gordon McCall's Motorworks Revival combines serious car enthusiasts, world-class cars and aircraft, all in one fantastic party.", he added.
Venom GT is based on Lotus Exige, but with enormous twin-turbo 6.2 liter V8 with whopping 1217PS (895 kW) and 1564Nm (1155 lb-ft). The engine is mated to a 6-speed Ricardo manual gearbox. The car weighs just 1220kg (2585 lbs), so the performance is more like a level 5 twister. 0 to 60 mph in 2.5 seconds and a top speed of 443 km/h (275 mph) – theoretically of course.
"Twelve hundred horsepower combined with in a mid-engine chassis that weighs twelve hundred kilos (2,685 lbs) - no other road car and only a handful of race cars can match the power to weight ratio of the Venom GT," added HPE president and founder, John Hennessey.
"It is a driver's car, a supercar with a soul that will give you as much speed and performance as you dare ask of it"., he finished.
The price is as brutal as the car itself - $950 000.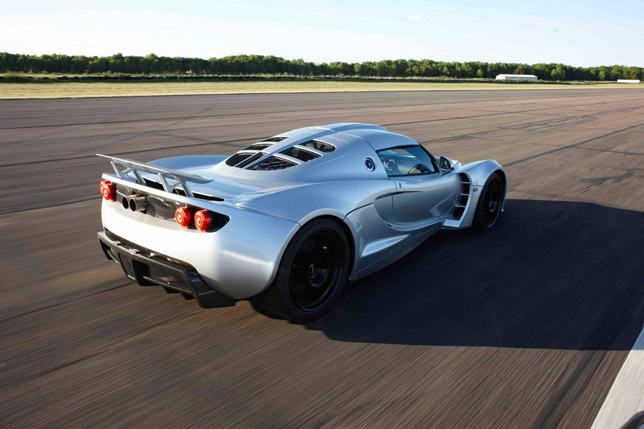 Source: Hennessey