Vilner Gentle Pagoda Mercedes-Benz W113
What constitutes having class? Wine and cheese, caviar? Or maybe golf... going to the opera every now and then? We don't know. If someone asks us to show up at a party we'll most probably go for our Hawaiian shirt, shorts and flip-flop gear. The one thing that would be on our minds however, will be our ride. There's much to choose from... in our alternate reality where we own Jay Leno's garage. Today though, we stumbled upon a prime candidate – A Mercedes-Benz Pagoda from the 60s. It has however, been renovated by the guys at Studio Vilner so it's now the Gentlie Pagoda.
Keeping faithful to their own signature, Vilner have made little to no modifications on the outside but once you step in, the premium stuff becomes noticeable. There's a prevailing latte/coffee theme that's been achieved with a two-toned leather material. Chrome and mahogany shine again on the dashboard and the steering wheel. The trunk has been specially tailored and comes with a jewelry box while on-purpose-faded aluminum sill plates read "Gentle Pagoda".
At Studio Vilner, they know their classics, and that has to make them classy, right?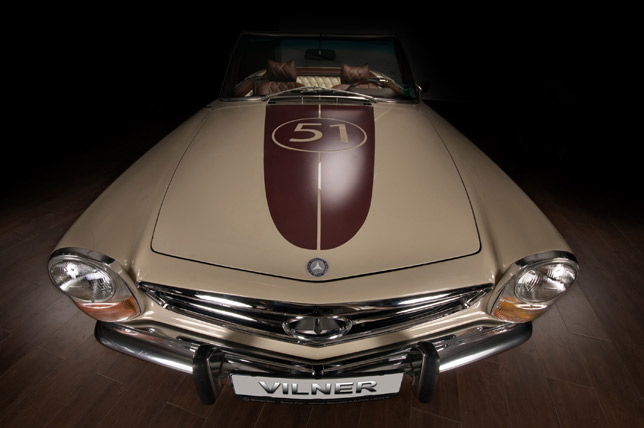 Source: Vilner