Mercedes-Benz E55 AMG 4Matic By Vilner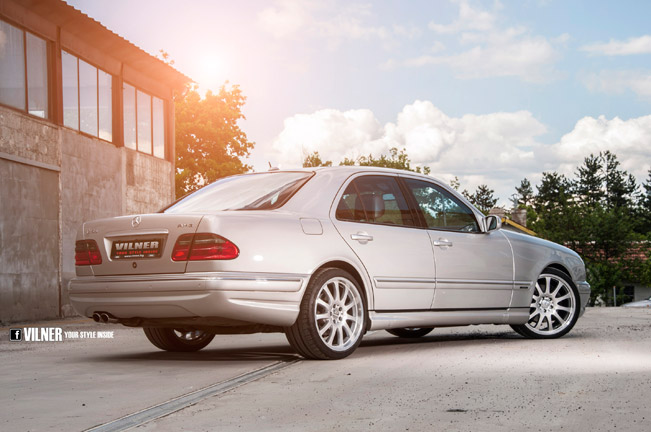 Mercedes-Benz E55 AMG 4Matic by Vilner is truly unique. And here is why. Around 10 million of the luxury Mercedes-Benz vehicles are E-Class. Million and a half of the produced E-Class vehicles have chassis number W210, of which several thousand are the sporty AMG versions. Only 12 thousand of them are E55 AMGs, which are powered by the huge V8 engine. In turn, of these just 653 units were produced in 2001. And there are only 8 of them, which are 4Matic, made by individual order. At last, there is only one Mercedes-Benz E55 AMG 4Matic which was carefully restyled by the tuning specialists at Vilner.
Besides being one of the rarest cars ever, this 2001 E55 AMG 4Matic has sentimental value, because it is one of the last machines assembled and tuned by hand in the small factory of AMG in Affalterbach. This is the reason why the designers at Vilner had a very careful approach to the project of Mercedes-Benz E55 AMG 4Matic. The tuners at Vilner have preserved the class and exclusivity of the car, but have also added a touch of smoky single malt.
This classicism has been achieved by the lavish use of a combination of various shades of brown and a wide range of leathers. The patina leather in smoky cognac color dominates throughout the interior and wraps all the elements that hands have contact with, including the ergonomic steering wheel. It was combined with a perforated Alcantara in more neutral colors.
What is more, the dynamic feeling is underscored by the V shaped elements on the front and rear seats. The original wood veneer was replaced by carbon applications that were lacquered in pale brown. The plastic parts of the interior have been recolored in brown.
At last, the trunk of the E55 AMG 4Matic got brand new leather treatment, which is a continuation of the theme of the interior. However it features major additions: an Affalterbach emblem, embroidered on the patina leather, as well as a travel bag, hand-made from the same materials used in the interior.