The new Volkswagen Golf VII - Perfection in the details [VIDEO]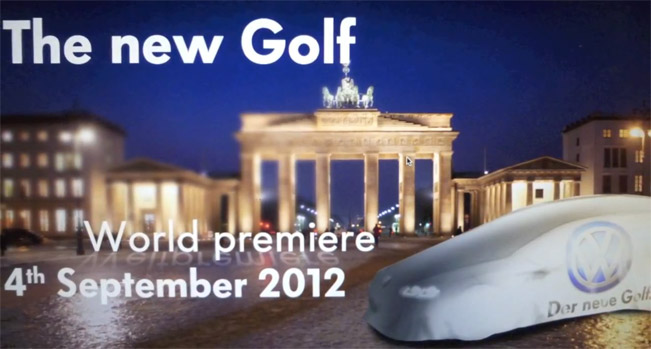 There haven't been released any official images of the new Volkswagen Golf VII yet. However, an interesting video popped out recently from the web space.
The new Golf is promised to deliver improved comfort and safety features, despite the reduced weight of up to 100 kg. One of the new assistance systems is the multicollision brake. This in fact is a complete new feature which Volkswagen is going to implement for the first time.
Other systems include proactive occupant protection system, standard XDS electronic differential lock, ACC adaptive cruise control plus Front Assist and a City Emergency Braking function, Lane Assist lane-keeping assistant, fatigue detection, traffic sign detection and the latest generation of the automatic parking assistant Park Assist including OPS, automated light functions Light Assist and Dynamic Light Assist.
Some of the new technologies which are going to be included here are the progressive steering, selection of the driving profile with up to five modes, an electronic parking brake, a newly developed ergonomic sport seat, a guard against using the wrong fuel in the diesels, a new climate comfort windshield and a new generation of information and entertainment systems.
Another interesting fact around the Golf is that it has been made more spacious, safer and more comfortable. In addition to that, Volkswagen was able to reduce its weight by up to 100 kg compared to the previous model.
All of the above mentioned facts combined with the feature of two new engine lines, result in up to 23 per cent decrease of fuel consumption and CO2 emissions.
To be more precise, the new engines are the new 1.4 TSI with powerful 103 kW/140 PS and combined fuel consumption of just 4.8 l/100 km (112 g/km CO2) and the TDI with 77 kW/105 PS and combined fuel consumption of 3.8 l/100 km for emissions of 99 g/km CO2.
The world premiere of the new Volkswagen Golf VII is on 4th of September.
News and Video Source: YouTube