Volkswagen Passat CC by KBR Motorsport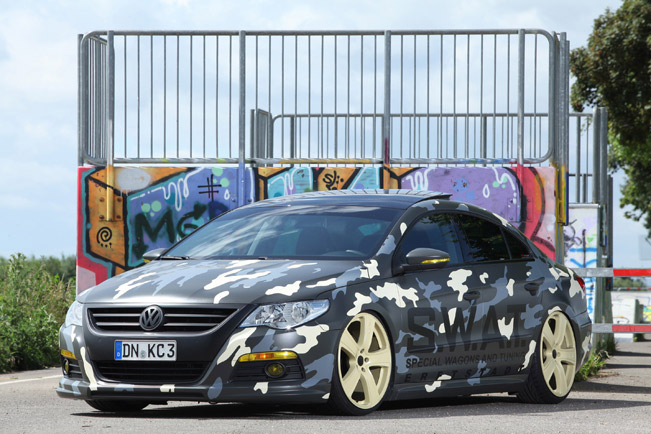 Usually, when you need some extra character on the road, you turn to aftermarket designers like A. Kahn or tuning houses that resemble Gemballa or Prior. They will be more than happy to put a bumper or two on your gone-souless Mercedes or Porsche. But then, you can do this with your car...provided that you are not ashamed to drive around with "SWAT" written on your side.
Here SWAT actually stands for "Special Wagons And Tuning" which is the parent company of KBR Motorsport and they are responsible for this camouflaged Volkswagen Passat CC. It's not likely to blend in with it, is it? Luckily, for every drop of insanity here, there's some sense that compensates. Take the aftermarket 3rd grade coilover suspension – it lowers the four-door coupe neatly so that, at the very least, the 9 x 20-inch R12 Nero wheels gain as much visual prominence as possible. The tire size on all fours stands at 225/30ZR20. There's some artillery involved as well – an exhaust system that includes a racing catalyst and a 76 mm single tailpipe. That jumps the power of the Passat to 280 hp.
And that camouflage thing, is not really a paint job. It's more of a foil job done by the guys at CoverEFX. And that pretty much wraps it up - the KBR Motorsport Volkswagen Passat CC Now-you-see-me-now-you-do style.
Source: KBR Motorsport