Volkswangen ABT Up!
ABT Sportsline has introduced the tuned version of the small city car – Volkswagen Up!. It looks very nice and quite sporty. Actually, the car reminds Abt of the Fiat 500 Abarth, which is a great vehicle.
"Which does also mean that this baby is supposed to be fun as well", commented Hans-Jürgen Abt. ABT Sportsline's managing director
"It is huge fun to drive it through the narrow streets here in downtown Kempten!", he added.
There is no doubt that the Up! is a real ABT meaning that it is assertive without losing its ecological and economic qualities. All components are of the highest quality and very stylish, of course, but also very affordable.
The exterior boasts carbon-look stripes with aggressive red ones across the entire surface. The mix of retro and modern age is really successful. Window frames and side skirts are the "common thread" leading straight to the strong back of the ABT up!, where rear masks, an exhaust pipe tunnel and the sporty double exhaust pipe form a unit. There are also mirror caps or red hub covers with ABT logo.
Last, but not least, VW ABT Up! benefits from a new suspension springs bringing the ride lower to the ground. There is no information about performance packages, but probably there will be several ECU updates.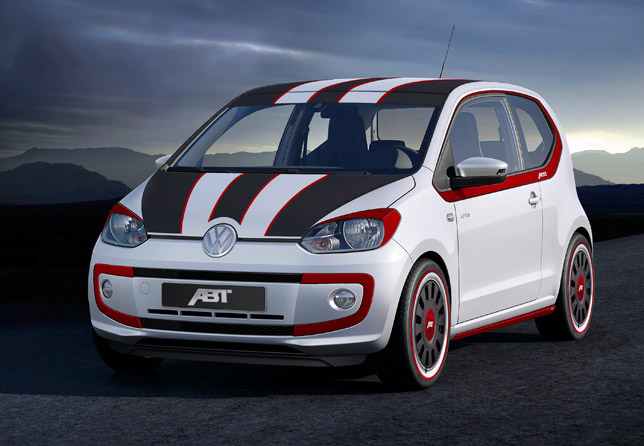 Source: ABT Sportsline