Volvo Shows 2015 XC90's Interior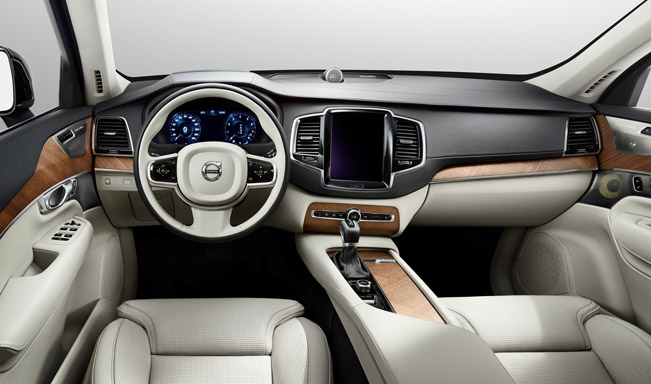 2015 Volvo XC90 was just partially revealed – the company has shown the first interior pictures of the upcoming model. The official premiere of the car will happen in August. In fact, the original XC90 was introduced in 2002 and eventually revolutionized the SUV segment with its combination of space, versatility and safety. As we can conclude from the photos, the XC90 features the most luxurious interior that have ever been designed for a Volvo.
Inside, the design of this SUV is inspired by the country of Volvo's birth, Sweden. The country actually has the global reputation for integrating the latest technology with design that is clean, beautiful and crafted from the finest materials.
The most striking feature is the tablet-like touch screen control console. It is button free and represents an entirely new way for drivers to control their car and access a range of Internet-based products and services.
Furthermore, the interior combines materials like a soft leather and wood with handcrafted details. For instance, the gear-lever was made of crystal glass, as the diamond-cut controls for the start/stop button and volume control.
2015 XC90 is the first Volvo to use Scalable Product Architecture (SPA). The latter creates a far wider range of design possibilities, improves driveability and permits the inclusion of the latest safety features and connected in-car technologies. In addition, it increases interior space.
Other details, for example around the safety and interior air quality will be released in late July or early August. The full reveal of the technology highlights, including chassis and powertrains, will start in mid-July and will continue throughout the summer. The exterior launch of 2015 Volvo XC90 is scheduled for the end of August.
Source: Volvo