Volvo V40 Priced $31 501 in the UK
The Volvo V40 5-door hatchback which debuted last month at the Geneva Motor Show is ready for sale at a starting price of $31,501. It's packed full of equipment and safety features one wouldn't normally find on any other entry level car.
The basic trim line will be marked with an ES. But basic in Swedish terms is far what one would imagine - City Safety, pedestrian airbag, Bluetooth, high performance audio with 5" colour display screen, ECC (Electronic Climate Control), 16" Matres alloy wheels, DSTC (Dynamic Stability and Traction Control), power windows, a leather steering wheel and gear knob and textile floor mats. The SE (the next step) adds cruise control, keyless start, autofolding power door mirrors and a host of decorative luxories. There's a LUX variation of the SE trim which sees the fitment of leather-faced upholstery, 17" Mannan alloy wheels and LED day running lights as well as active bending xenon lights with a headlight cleaning system. All, be that ES, SE, SE Lux can come with a fully integrated satellite navigation system with voice activated control, a 7" colour display screen and DVD player. Thus your Volvo V40 will be known as ES/SE/SE Lux Nav. It makes your head spin, we know.
The diesel D2 power plant in the V40 achieves an impressive figure of 78.5 mpg and spews out less than 100 g/km of CO2 emissions. Considering that we are talking about a 1.6 liter block that develops 115 hp, mated to a six-speed manual gearbox, that is quite a feat. There is of course a Start/Stop function (here and everywhere else).
If it's the most expensive model you're after than better prepare a considerably more heafty sum of money. Let's say $42, 705. For that you get the SE Lux Nav with a D4 177hp diesel engine unit. Not as economical as the D2, but still frugal enough and considerably more fun to drive.
Orders can already be placed, production starts sometime in May and delieries are expected to start in September this year.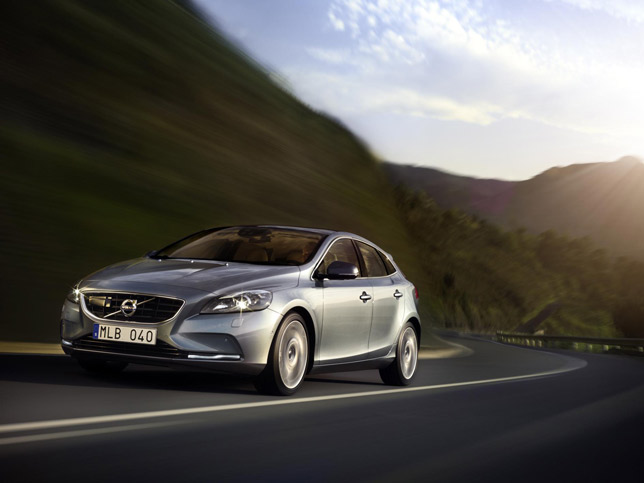 Soruce: Volvo