Vorsteiner And An Orange BMW E82 1M Coupe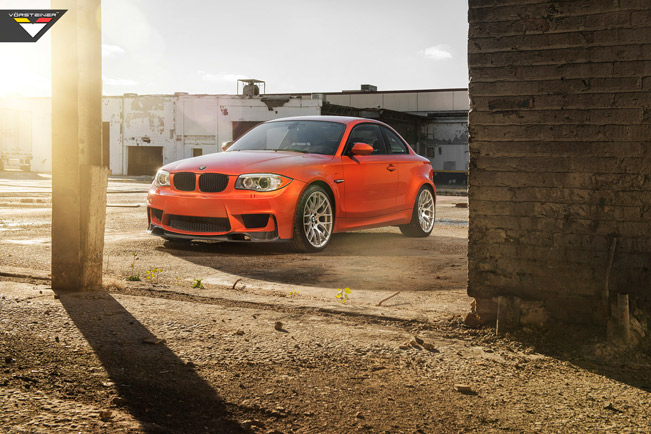 Remember that Vorsteiner kit for the BMW 1M Coupe? Well, now we get to see it in its full glory in this latest photo shoot. Mmm...sweet orange bliss.
All additional body parts are made with Vorsteiner's trademark autoclave pre-preg carbon fiber. The front is a bit of a handful with all its distortions and whatnot, but apparently all is in the name of aerodynamics. The fins on both of the side extremities are supposed to channel cooling air to the front brakes. The trunk lid has been replaced entirely to save a few pounds (it now adds only 11.5 lbs to the overall curb weight). It also has a barely noticeable integrated lip spoiler at its very end.
The custom-made exhaust system comes in either stainless steel or titanium and gives a small jolt of additional power so that the 1M now has 350 hp and 337 lb-ft of torque.
And what about the wheels? They seem to be the same VS-400s that were quoted in the program, but the tires on this one read 245/35ZR19. That means they must have downsized a bit from the initial measures. That is, ether 20 or 21 inches.
Still, we can't complain. It all looks pretty appealing.
Source: Vorsteiner