Vorsteiner BMW E92 M3 GTRS3 Widebody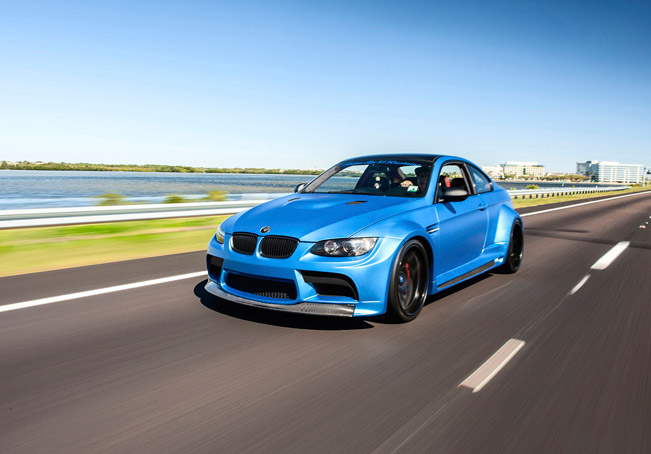 Vorsteiner BMW E92 M3 GTRS3 is race inspired and designed to be extremely aggressive along the street and the track. The aerokit, GTRS3 Widebody, is the perfect solution for those who want an increased traction and downforce for their E92 M3. Precisely, the kit comprises of a full front bumper, wide arch front fenders, extended side skirts, wide arch rear quarter panels, boot lid, and of course, a matching rear bumper.
The front bumper uses enlarged front intake ducting. It directs air to the front rotors, while the race stimulated front fenders boast vertical vents in order to ensure that the air doesn't circulate within the wheel well.
At the rear, the wide arch quarter panels house the huge Michelin Pilot Super Sports 325 tires fitted with Flow Forged V-FF 101 wheels. They come in sizes 19×10 at the front and 19×11 at the rear, and carry a fancy five double-spoke design and are coated with Matte Black paint.
To further aid additional downforce and traction, the rear bumper features an integrated diffuser and side vents to transition the high-velocity airflow underneath the car preventing flow separation and drag.
BMW E92 M3 is powered by the high-revving 4.0 litre V8 engine, which produces 420 hp (309 kW) at 8300 rpm and 400 Nm (295 lb-ft) at 3900 rpm. The car accelerates from 0 to 100 km/h in 4.8 seconds on its way to a speed of 250 km/h (155 mph). Without the limiter, E92 M3 can easily pass the 300 km/h (186 mph).
Source: Vorsteiner