More Powerful Yet True to The Original Vorsteiner Lamborghini Aventador-V LP-740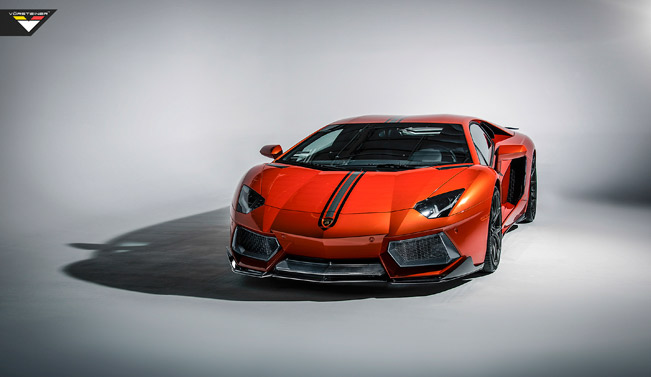 Vorsteiner are getting more and more ambitious. Today we get a glimpse at their Aventador-V LP-740 programme... erm... for the Lamborghini Aventador LP 700-4. Starting to get the idea of what that package does? That's right, the Lambo's ECU has been tweaked to give out 40 hp more at the wheels (so it should be even more in the engine compartment).
Other than that. it's mainly a visual feast. Though, it is hard to notice the actual modifications. That's partly because the original Aventador is flamboyant enough, but also because Vorsteiner decided to go all subtle about it and not actually replace any panels throughout the body. Instead, they simply weaved a few carbon add-ons and glued them on so that they "maintain Lamborghini's original design language". It's all about function apparently.
The front gets treated with two splitters on each side which should provide additional down force. An optional lower race lip spoiler can link the two splitters for more rigidity and give a tiny bit more visual flare. The Vorsteiner side skirts continue the vertical floating fin design seen at the front and also duct air to all the right directions. Finally, the Aventador-V package seeks to replace, yet recreate, the active aero rear wing in all of its carbon-fibery goodness. Vorsteiner are adamant that everything is OEM and thus no sacrifices will be made on the part of the lucky owner.
A couple of things more: the rear diffuser can be optionally swapped with a Vorsteiner one that's made entirely of their quality pre-preg autoclaved carbon fiber materials. A graphic livery strip starts as a V at the Lamborghini badge and runs through the middle of the car. The Aventador-V we see here wears Vorsteiner's Forged monoblock wheels that measure up 20x9 at the front and 21x13 and save from the total weight of the car.
Source: Vorsteiner