Vorsteiner Lamborghini Aventador-V Zaragoza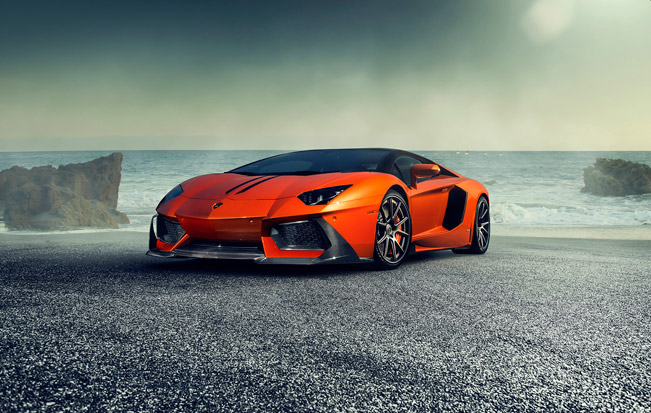 Vorsteiner Lamborghini Aventador-V Zaragoza is the newest creation of the Californian based tuners. They have been working on it for the past months and now show their project with exclusive and beautiful photo-session. The latest addition to the Aventador-V program is the Zaragoza front spoiler. The customizers reveal that it was a particularly difficult to create it, because it is constructed to fit with the existing OE front bumper in a single piece of carbon fiber.
To ensure this spoiler is incorporated and unified with the distinctive Aventador character, Vorsteiner has extended lines from the factory bumper in order to flow with the lower, wider, and longer carbon spoiler. To go further into details, the Zaragoza front spoiler is approximately 25 mm lower, 25 mm wider, and 200mm longer when one compares it to the factory front bumper.
There are also added vertical blades which direct air away from the body. This results in decreased drag and turbulence and also significantly optimizes downforce and increases the stability of the front end at high speeds by directing the air away reducing frontal pressure. Aventador-V gets not only the Zaragoza, but also – an active aero wing, side blades and rear diffuser as well as OE Exterior Carbon Package.
This particular Lambo shown in the pictures below runs on Technica Multipiece VTM-350 Forged Wheels in Matte Black finish. The wheels come in sizes 20x9 at the front, and 21x13 at the rear. They are fitted with Pirelli P Zero tyres in the dimensions of 255/30/20 and 355/25/21 at the front and rear, respectively.
Source: Vorsteiner