Vorsteiner Mercedes C63 AMG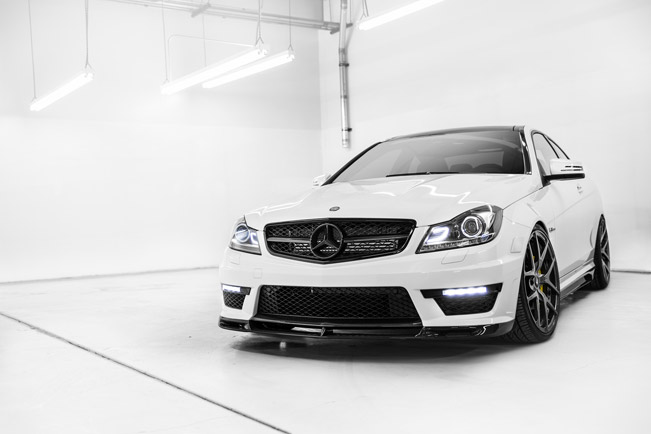 Vorsteiner has announced their latest project based on 2012 Mercedes Benz C63 AMG. The sports car comes only with style modifications including complete body package and big wheels. The only performance mod is a Stainless or Titanium Sport Exhaust system.
The engine a 6.2 liter naturally aspirated V8 with 457PS (336 kW) and 600Nm (443 lb-ft). It is mated to a 7-speed SpeedShift MCT transmission. 0 to 100 km/h in 4.5 seconds, which is a bit faster than BMW M3 and the fuel consumption is 12.0 L/100 km (19.6mpg).
The special AMG Performance Package boosts the engine to 488PS (359 kW) and the torque is the same 600Nm (443 lb-ft).
Vorsteiner 2012 Mercedes Benz C63 AMG:
• Front add-on spoiler Carbon Fiber
• Front vent louver covers Carbon Fiber
• Front Hood Grill Replacement Carbon Fiber
• Front fender grill cover Carbon Fiber
• Side skirt panels Carbon Fiber
• Boot Lid replacement with integrated spoiler wing element Carbon Fiber
• Rear Vented Diffuser element Carbon Fiber
• 19 or 20 inch forged wheels aluminum forged
• Stainless or Titanium Sport Exhaust system
• Vorsteiner custom embroidered floor mats and trunk mats with piping color options
Source: Vorsteiner