Carbonfiber Dynamics Releases Aero Program for Mercedes-Benz C63

Mercedes-Benz C63 AMG by Carbonfiber Dynamics is the next vehicle, which we have prepared for you today. The car looks amazing and it can definitely show some great performance characteristics thanks to its new aerodynamic equipment. C63 by AMG is a vehicle that speaks for exclusiveness, and may be this is why the experts have chosen to work with it. Here are the details of the customization.
The vehicle for modification is from model year 2010. Carbonfiber Dynamics has made for it unique carbon-fiber body packet of Boca Design, which adds more aero-dynamism to its stance, posture and driving characteristics.
SEE ALSO: Performmaster Mercedes-AMG C63 (S) Receives Significant Power Uprating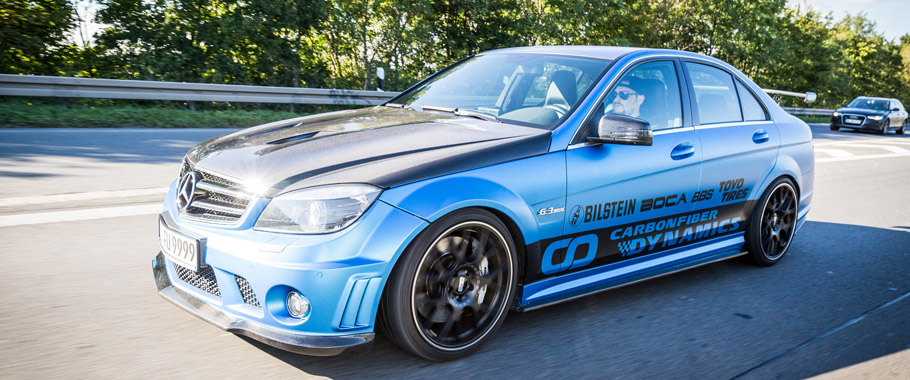 The kit features various details made from the lightweight material. Precisely, the tuners have included front lip and a light weight carbon-Kevlar bonnet in black-series-style with extreme tenacity which saves around 7 kg. In addition, they have also added side mirror caps, side sills, ground diffuser with rear apron and rear wings, all in black-series-style.
Other external modifications include new wheels, coming from BBS. They measure 19-inches and were shod with Toyo tires of the corresponding size. We shouldn't forget the Bilstein B16 PSS10 chassis as well.
At last, we can't skip the new foiling that the Mercedes received. In particular, the car was wrapped noticed that the car was wrapped in Avus blue by Drive and Style.
If you in any case happen to visit the Essen Motor Show, then do not hesitate and go see this car in hall 2, stand E126.
Source: Carbonfiber Dynamics via Miranda Media