Vorsteiner Porsche 991 V-GT Edition Carrera Gets Tuned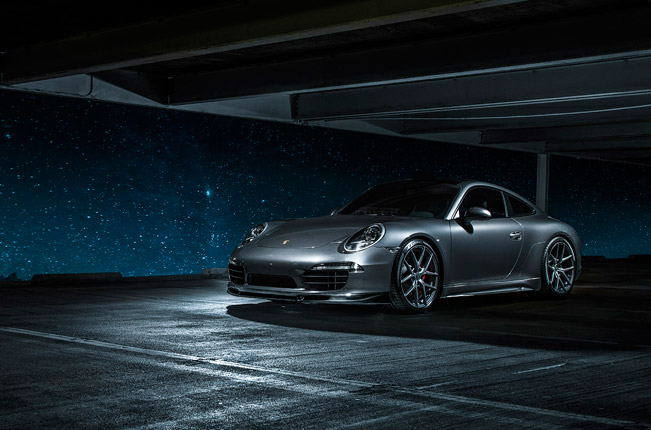 The famous tuning company Vortseiner has recently released some stunning Images of their latest project, called Vorsteiner Porsche 991 V-GT Edition Carrera. Porsche's emblematic model – 911 Carrera has been equipped with special edition V-GT Front Spoiler, V-GT Side Skirts, V-GT Rear Diffuser and V-GT Deck Lid Spoiler.
Furthermore, the car is equipped with FF01 FlowForm wheels in Gloss Gun Metal color, and look stunning doing so. In this present case they are in dimensions 20x9 inches and 20x11 inches for the front and the rear respectively.
The V-GT Front Spoiler is designed with functionality at its core with its dual integrated brake duct cooling ducts and GT center splitter made of carbon fiber. Therefore it is lightweight and replaces the factory black plastic unit and attaches to the OE front bumper using the original factory clips and mounting holes.
Next, the V-GT Side Skirts harmoniously balance the lines of this Porsche. They include an optional integrated carbon fiber blade sill extension which additionally assists with downforce and complements the curves and lines of the rear fender panels. There are also two other options available: the CFHM with Carbon Fiber (carbon fiber honey comb matrix) and the DVWP Primer Finish w (dry vacuum woven plastic).
The third component integrated in this 911 Carrera is the V-GT Rear Diffuser, which has one of the most striking designs among the other elements of the aerodynamic package. This carbon fiber diffuser adapts the original attachment points of the factory black plastic unit but takes it to another level with it is striking integrated fin design that extends all the way underneath the underbody of the vehicle.
At last, the V-GT Deck Lid Spoiler at the rear is what rounds-off the new image of this Carrera. This element was also constructed of lightweight carbon fiber and fits onto the factory mechanical wing riser aiding further in downforce whether the wing element is open or closed. At last, Vorsteiner's Autoclaved Pre-Preg Carbon Fiber structure gives the aforementioned parts superior stiffness, aerospace strength and durability.
Source: Vorsteiner