Vorsteiner Rolls-Royce Ghost [Teaser]
Vorsteiner have undertaken an ambitious project and have released a bit of a teaser. It will be the Rolls Royce Ghost that's going under the knife. But , in true spirit of the ultra-executive, the company intends to keep it simple and clean. In fact nothing is to be replaced but rather clipped on.
The end goal for Vorsteinier is to add a great deal of functionality and a little bit of character. That's why the Ghost here gets some additional downforce by a front spoiler with a replaceable splitter chin. Supposedly further back there will be side skirts blade attachments with integrated wing elements. (although they don't seem to be present in this picture, but it is, after all, a teaser). Then at the back end, one would find that there is going to be a carbon fiber rear decklid spoiler and a diffuser at the bottom (not a replacement part but an add-on). All of the body kit components are made trough an Autoclave pre-preg carbon fiber technology that guarantees durability and strength.
It all looks and sound very subtle indeed. The one thing sticking out in the Vorsteiner Ghost however, will be the massive 24-inch 3-Piece forged aluminum wheels that barely leave room for tires under the arches. Plans are to release the program this Summer.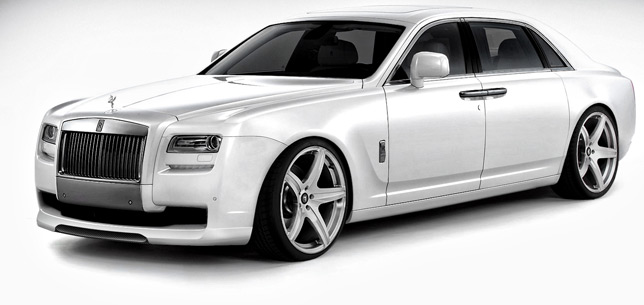 Source: Vorsteiner